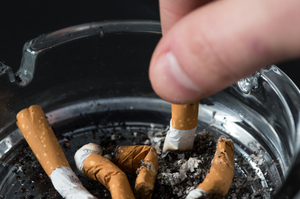 Waving goodbye to such a damaging and ridiculous habit is satisfying indeed.MY New Year's resolution is the same resolution as last year's, and the year before that and for many, many years before that.
It is : "I, D.N. Farmer of sound mind and body (give or take a few crinks) resolve not to make a New Year's Resolution" and unlike many others who struggle to maintain their resolve and suffer horrible pangs of guilt when their willpower cracks and breaks I have absolutely no trouble staying true to mine.
My decision not to impose mental hardship and suffering on myself is not because I don't believe in resolving to improve your lifestyle, but is due to my everlasting pride in maintaining a resolution I made on December 29, 1989.
That was to quit smoking and it was the singularly best decision I have made apart from deciding to slip a wedding ring on the finger of a young Auckland lass named Kate two years previously, and perhaps collecting a nice little hatful of cash off a courageous punt on a trifecta in Victoria some years later, but that's another story.
The eagle-eyed among you would have noticed my quit smoking resolution was made on December 29, a little before New Year and that was deliberate because I had already decided a resolution on the stroke of midnight heralding in another year was unlikely to work.
So, I made mine a couple of days earlier to psychologically distance it from being an actual New Year's resolution, and- without that pressure-it worked.
Hand on heart I can honestly say I have never had a puff since and, like all reformed smokers, I have grown to loathe the habit and have to bite my tongue to save from commenting on it when the few friends who still puff 'n cough light up.
Waving goodbye to such a damaging and ridiculous habit is satisfying indeed and I am pleased to be able to report to readers that the once incredibly smoky Times-Age newsroom is not only smokefree under legislation but over 90 per cent free of smokers by choice.
Not that smoking is the only vice those of you who will be making resolutions should consider.
There are many, many more and I am surely guilty of harbouring some - like a fondness for a nice glass of red, watching world darts finals way into the night and feigning sleep when the telephone rings in the early hours of the morning so Kate will answer it.
But, in my view at least, none of the above are as financially damaging or as devastating to health as smoking.
Cigarette moguls reading this will (if you can excuse the pun) be fuming and no doubt hard-bitten nicotine addicts will be muttering about smokers' rights. But deep down the latter know the dirty little habit that costs them a fortune, causes them to cough and wheeze, pollutes their clothing and gives their breath all the allure of a rotting possum corpse is one they would dearly love to shake off.
Breaking any addiction is not easy but to do so you have to start at the beginning and if that means a New Year's resolution then sobeit and good luck to all of those who at least try to toss away the fags in 2014.
For more articles from this region, go to Wairarapa Times-Age