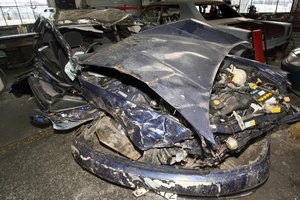 OUR youth are needlessly killing themselves and each other, leaving families traumatised to deal with the aftermath through their own pain. This was highly evident during the sentencing of a man in Masterton last week. He was broken in both body and spirit knowing he was responsible for the death of his best mate.
Throughout the sentencing the pain from both sides, still dealing with their individual losses, was deeply emotional to be a part of.
This is every parent's nightmare as they watch their teenagers grow wings and gain independence. As a mother I felt their turmoil. "There, but by the grace of God could have been any of us".
It's not an easy issue to deal with when our kids are determined to believe they are six feet tall and bullet-proof and act in such a manner.
Many years ago a group of teenage school friends, of my then 15-year-old son, arrived at our home one Saturday night asking if he could go out with them.
I looked in the vehicle and they had alcohol so my alarm bells sounded automatically.
It soon transpired this group of six youth, including my son were heading into the forestry where we lived, so they could have a party.
"No way is my son going," was my reply.
This is hard to enforce when you have a strapping teenager and his mates standing over you and you are a single-parent. Whether I liked it or not, these kids were determined to have a party. Alcohol in their arms at the ready.
So I think I did the responsible thing - took the keys and made them stay and have their party in my son's sleep-out. Cooking them breakfast in the morning and ensuring they were sober before letting them leave.
That night an irate mother calls to tell me she was ringing police for me allowing her 16-year-old to drink booze.
If the shoe was on the other foot I'd have been saying, "thank you so much for keeping my precious son alive. Thank you for caring."
A week later the same boy whose mum rang me and my own nephew were killed - both drunk and speeding in a Holden Calais.
Boys will be boys but fast cars need to be banned for youth drivers. More on that one next week. Meanwhile, let's look after our precious kids.
For more articles from this region, go to Wairarapa Times-Age