Firefighters battled a ferocious blaze in a large tool and storage shed near Masterton that ignited nearby fences and threatened the neighbouring Masterton Saleyards at Waingawa yesterday.
Masterton Fire Service station officer Doug Flowerday said the blaze broke out in the 10m x 10m shed about 11.30am and had destroyed the interior of the building and tools and equipment stored in the structure.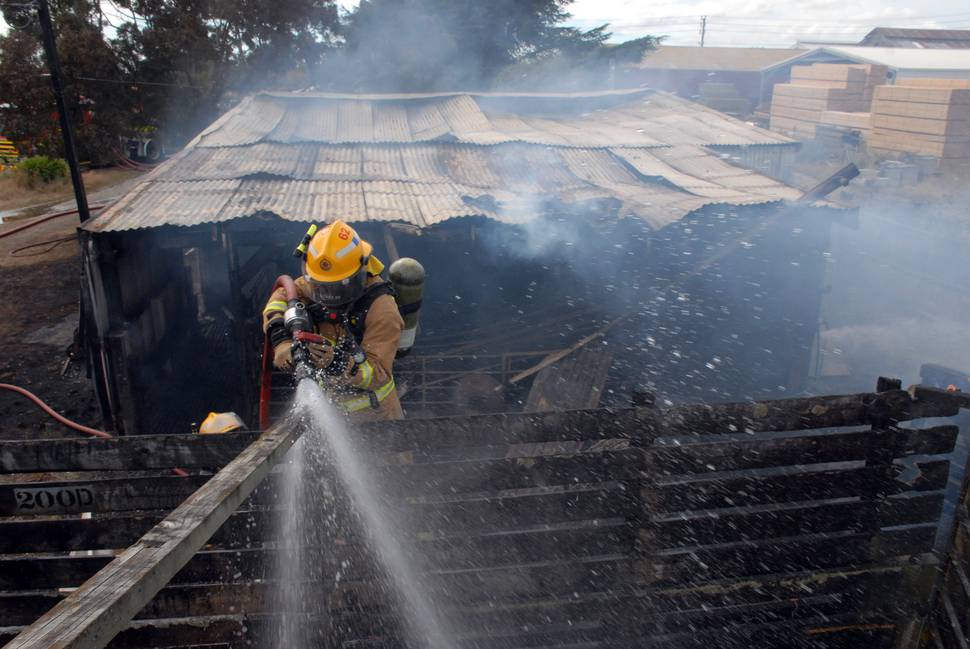 There was no threat posed to people or stock, he said, and firefighters had worn breathing gear to battle the blaze.
Mr Flowerday said firefighters from Masterton and Carterton, and the Carterton water tanker, had successfully contained the blaze to the shed, which was near a smaller outbuilding in an otherwise empty field bordering the stock saleyards.
Several vehicles were parked in the paddock belonging to farmers who had attended a stock sale at the yards yesterday morning. Mr Flowerday said the caretaker of the saleyards was the last person inside the buildings. Power was cut to make the area safe for fire crews.
"It was well involved in fire when we got here and at this stage we don't know the cause, so we're getting a fire investigator over here. There was power, so that is a possibility.
"We had a little fire spread to the neighbouring fence because of radiant heat but our first priority was to check for people or life, and then to stop any exposure fires, and that's where we directed our attack, to stop it spreading any further.
"Almost all of the equipment inside the structure was destroyed and most of the framing timbers were gone as well. But we did manage to keep it contained to the shed."
Masterton farmer Carolyn Powell was at a stock sale that had been held at the yards earlier in the morning and said sale agents had called an early stop just before smoke was seen rising from the nearby shed.
"There was a small sale and they had stopped for an early lunch or late morning tea and some of the agents started to leave and must have seen smoke, or flames.
"The rest of us started coming out to have a look and by that time flames were shooting out everywhere, so we rushed down and moved our vehicles."
The shed was a storeroom for tools, equipment and firewood, she said.