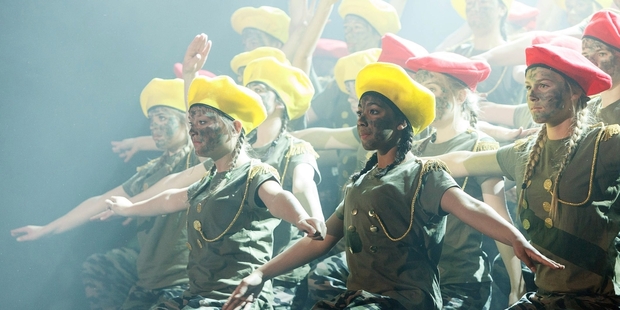 Wairarapa College seized open division silver and a clutch of awards at the second night of the Wellington ASB 2014 Stage Challenge.
Event manager Sarah-Jane Phillips said the WaiCol performance on Tuesday night was titled Weapons of Mass Destruction and the school came second in the ASB 2014 Stage Challenge open division behind winners Onslow College. St Mary's College finished a close third in the contest held at TSB Bank Arena in Wellington.
The description for the Wairarapa College performance read: "Beginning with the bombing of Hiroshima, nuclear weapons have quickly become an ominous threat to the entire world. Building up their weapons of mass destruction, individual countries monitor each other's progress. New Zealand must stand strong with our anti-nuclear laws, for with the amount of nuclear weapons that are currently available, our planet could be destroyed."
Wairarapa College also won the Girlfriend Award of Excellence for Performance Skill, the Thomas George McCarthy Trust Award of Excellence for Choreography, the Wellington City Council Award of Excellence for Stage Use, the Ministry of Youth Development Award of Excellence for Concept, the Southern Trust Award of Excellence for Drama, The Edge Award of Excellence for Soundtrack, the Lion Foundation Award of Excellence for Set, Design and Function, the ASB Award of Excellence for Costuming Character, the Canon Award of Excellence for Visual Enhancement, and the Award of Excellence for Lighting Design.
Kuranui College took third place in the open division of the contest on the first night of competition on Monday evening and also won a slew of awards. Makoura College also took home a haul of prizes from the opening night of the contest.
For more articles from this region, go to Wairarapa Times-Age