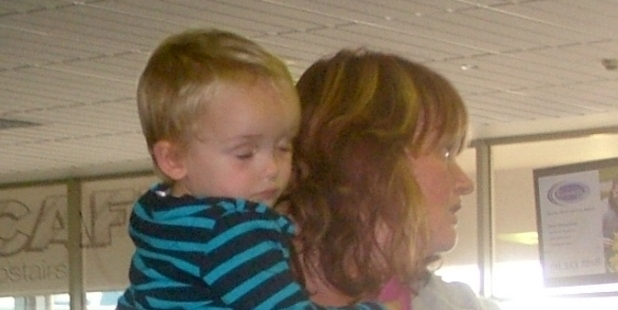 Two-year-old assault victim Caleb Skinner is back in Masterton.
Caleb was left fighting for his life on March 3 when he was assaulted, allegedly by 39-year-old Jason Sutherland, at a George St home.
He was airlifted to Auckland's Starship hospital in a critical condition with his parents Joanne Smith and Darryl Skinner at his side, then spent two weeks at Wilson Rehabilitation Centre, arriving home on Thursday to a new house.
Doctors say while he isn't severely brain damaged, the toddler will experience learning and behavioural difficulties as a result of the assault.
Family spokesman Trevor MacKiewicz said Ms Smith needed time to find her feet but was excited about being back in Masterton.
"She's relieved to be home. She was happy to see her new home and how nice it is. Caleb is settling and getting back to his old self. As soon as he walked in the door he was raiding his toy box, pulling everything out.
It was really good to see."
It's going to be a "long slow road ahead" for his family.
"[The doctors] don't know how much brain damage Caleb has suffered but they say he will find it hard learning. He will need speech and play therapy. Caleb's speech isn't as good as it was ... Jo just needs to settle down with her son. She wants things to get back to normal. She needs to be alone and sort things out so that she has the support she needs. Jo just needs to find her feet and wants things to get back to normal."
Hospital and doctors visits will feature in their future for a while yet. "They will do checks on him ... It's all new for Jo. She just needs some peace and quiet for now."
Meanwhile, if anyone has any old rugs or curtains to donate to the family please call Mr MacKiewicz on (06) 377 2525.
For more articles from this region, go to Wairarapa Times-Age