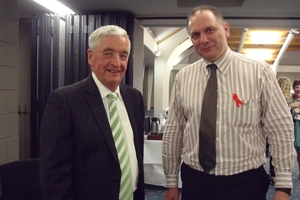 A series of public meetings to discuss health services in Wairarapa starts today.
People will hear from the district health board and have the opportunity to ask questions.
"It's a great chance to talk to people directly about what the issues are in healthcare, what will and won't change and dispel a few enduring urban myths," said Jill Stringer, Wairarapa and Hutt Valley DHBs spokeswoman.
Speaking at the meetings will be Graham Dyer, chief executive of Wairarapa and Hutt Valley DHBs and Wairarapa DHB chairman Bob Francis.
"The real focus of the meetings is looking back over the year, and forward over the next few at what might be ahead, which actually answers a lot of the questions that people might want to ask," said Ms Stringer.
"There will be time for some questions and if time runs out, then another channel will be provided for any further questions."
The meetings begin today with the first meeting at Greytown Library at 2.15pm, followed by Featherston at 4.30pm at the Featherston Community Centre.
Carterton and Masterton meetings will be on Tuesday at 3pm at the Carterton Events Centre and at 5.30pm at the Wairarapa Community Centre, Masterton.
Safer Wairarapa organised the community meetings and requested speakers from the district health board.
"Bob and Graham were happy to be present, as both enjoy the openness of community forums and try to regularly address community groups when invited," said Ms Stringer.
For more articles from this region, go to Wairarapa Times-Age