Meet Molly Ambrose, 10-year-old Taranaki schoolgirl and the world's youngest-known volcano chaser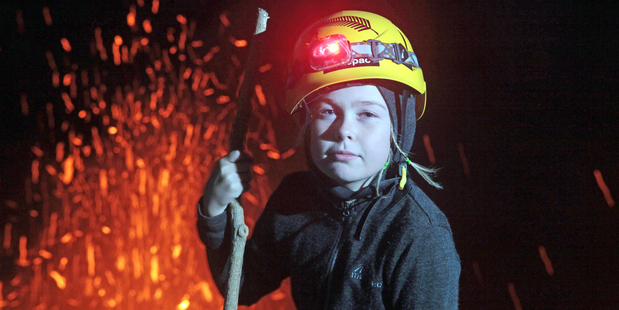 Dressed in an aluminium suit capable of withstanding 1,000°C, young Molly Ambrose stares at molten rock spewing from the mouth of an active volcano.
The Kiwi schoolgirl was just 9, when she stood 60m from the fiery debris, standing on Mt Yasur on Tanna Island, Vanuatu, where three tourists have been killed by flying lava in recent years.
"I wasn't scared at all and it was exciting to be up so close to it, but I really didn't like the smell," she says. "It smelt like a mix of vinegar and rotten eggs."
Molly, now 10, has risked her life dodging eruptions to become the world's youngest-known "volcano chaser".
Despite her age, she has visited eight volcanoes in New Zealand and overseas, as well as being raised in the shadow of the "sleeping giant" Mt Taranaki.
Molly's dad Bradley is no stranger to danger. As well as famously infuriating the Prime Minister by inadvertently recording an impolitic conversation between John Key and John Banks, Ambrose is a professional photographer, videographer and volcano hunter.
His spectacular images of erupting volcanoes have been published across the world.
He was persuaded to take his daughter to Vanuatu after giving a talk on volcanoes at her school, Stratford Primary.
"One of her classmates asked me why I didn't take Molly along, and it made me think, 'why not'?"
Ambrose had a customised fire-resistant hood made for Molly by an enterprising fire chief in Kaiapoi, to match her second-hand silver suit.
He admires Molly's courage in joining him at work. "It is an incredible world out there and you can't learn everything from Google," Ambrose explains. "You can't get the kind of experiences Molly has had from looking at a computer screen."
Ambrose says Molly has a real taste for adventure, having also joined him on recent trips chasing storms, earthquakes and tsunamis.
He is adamant that he would never put his daughter in harm's way. "It is probably statistically more dangerous just getting to Mt Yasur by cars, planes and foot than it is being at the volcano itself," he says. "I would not put her in a position where her life is at risk.
"She also balances my tendency to push the envelope in getting my photographs, so theoretically she is more beneficial to have on expeditions."
Molly,who enjoys playing netball and swimming, insists she wants to be a volcano hunter like her dad when she grows up. Failing that, she would settle for a job as a TV presenter.
Molly's mum Kama Ambrose has also given her ex-husband Bradley her blessing to take their daughter on trips.
"Molly is a wonderful young lady who puts so much effort into everything she does," she says. "I was nervous when she went to Mt Yasur but Brad always briefs me on where they are going and what they are doing.
"I am so proud of Molly and she had so many wonderful pictures and stories to share when she came home. She was exhausted but grinning from ear to ear."

• See more pictures here.