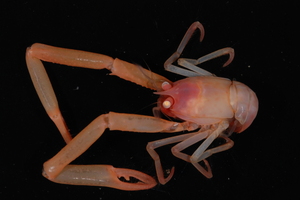 New Zealand scientists are hoping to capture new deep-sea species when they head out to one of the world's deepest undersea trenches this week.
A group of scientists from the National Institute of Water and Atmospheric Research (Niwa), the University of Aberdeen and the national museum, Te Papa, will use baited cameras to film species, collect fish and amphipod samples in the Kermadec Trench.
New Zealand scientists had mainly sampled species in the top 2000 metres of the trench but in the past couple of years sampling had been concentrated at depths of 6000 metres and greater, said voyage leader Alan Jamieson, a lecturer at the University of Aberdeen's Oceanlab.
"This time we are concentrating on observations from between 2000 and 8000 metres, to marry up the two depth ranges."
The Kermadec Trench runs north from near the northeastern tip of New Zealand, and reaches a depth of 10,047 metres.
Niwa principal scientist Malcolm Clark said most work had previously been focused on the continental shelf and slope because they did not previously have the scientific equipment to go to the extreme depths.
NIWA's research vessel Kaharoa, which would be used on this voyage, was a small ship capable of deploying free-fall systems to the deepest parts of the ocean, Dr Clark said.
Bait was attached to the systems to attract animals, which were then filmed by a video camera.
A large baited fish trap would also be used.
"With this we hope to capture some deep-sea fish that are new to science. We have seen unknown species on camera during the 2011 voyage, but we haven't captured any, and so cannot put a name to them," he said.
Any new fish species discovered would be sent to Te Papa for preservation and research.
- APNZ