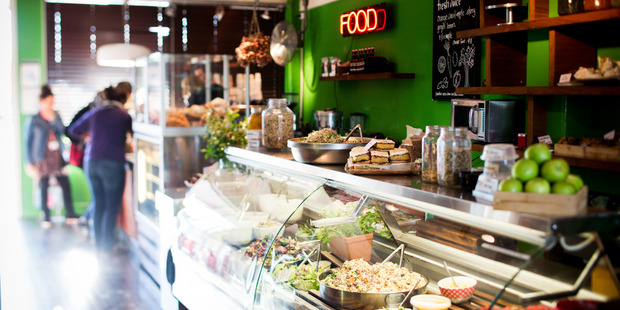 The take-home meal market keeps growing, with new food stores opening, cafes expanding to offer takeaways, more meal-delivery companies popping up, and catering institutions offering ever healthier and more tempting options.
Since everyone gets busy and lazy sometimes, we've created this handy list: 10 companies that will make dinner for you. All you need to do is pick it up - or, in some cases, just wait for the doorbell to ring.


The Little Oven Foodstore
A new opening from the family of Natalie Oldfield of Dulcie May Kitchen, selling salads and take-home meals of the week alongside gourmet goods and cafe treats.
98 Frederick St, Hillsborough
Wilder and Hunt
Gourmet convenience health food - what could be better? This juice bar and health store sells take-home meals such as slow-cooked short rib beef pie.
15 Maskell St, Saint Heliers
After Hours
Mouthwatering meals and daily desserts from Little and Friday's new neighbour and sister service.
43e Eversleigh Rd, Belmont
Tiny Food Store
The home of Sauce Catering also stocks fresh and frozen dinners, with a menu that changes weekly. Pop into their Milford store or order online at Sauce Catering.
47a Nile Rd, Milford
Ripe Deli
One of our favourite delicatessens, Ripe has a delicious assortment of fresh salads and frozen meals alongside their cabinet creations.
172-174 Richmond Rd, Grey Lynn
Forbes Homemade Gourmet
Since 1997, this Kohimarama spot has been offering home-cooked meals - get them delivered, or pick up, and throw some baking into your order, too.
144-146 Allum St, Kohimarama
Jess' Underground Kitchen
Jess has been serving Aucklanders dinner since a friend offered to pay for her excellent cooking abilities early last year. Order online then pick up from your closest cafe. Read about her favourite things here.
Take Me Home Kitchen
Fresh and frozen meals plus pizza and desserts during the week - order by calling or emailing and they'll deliver your meal for $4, or you can pick up from their Henderson kitchen.
Gingerbirds
This local cafe offers home-cooked meals such as tagines, pies and lasagnes, with paleo options.
357 Dominion Rd, Mt Eden
Tomette
French convenience meals and crepes, which can be ordered online or bought in grocery stores - delicieux!