Fashion's hottest design duo are stretching their wings and tell Janetta Mackay this is only the start.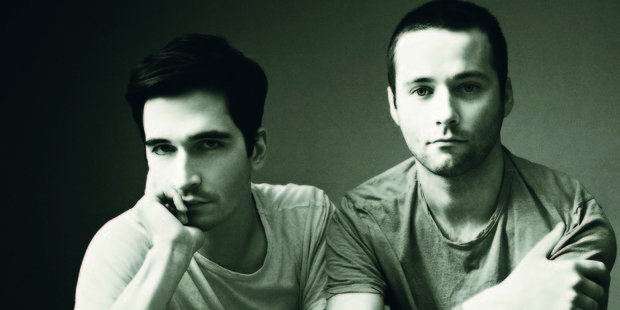 Proenza Schouler designers Lazaro Hernandez and Jack McCollough have been the reigning kings of New York cool for over a decade. Annointed early by Anna Wintour, they have lived up to the promise they showed fresh out of the renowned Parsons Design School, with collection after collection of fashion with an effortlessly edgy vibe.
But when the Downtown favourites opened their first flagship store in 2012, it was on the Upper East Side. These boys - who named their business after their mothers' maiden names - have upscale aspirations. Their satchel-like PS bags are an easily identifiable accessory - modern couture's must-have offshoot earner - with a resolutely anti-"it" bag look.
Speculation swirls from time to time about their being swooped on to head up a heritage house, following in the footsteps of Marc Jacobs and Alexander Wang. But
though logo mania may not be their thing, they are not averse to collaborations, as they tell Viva, provided they can show their own signature style.
This they certainly do in a limited edition collaboration with M.A.C (on sale in New Zealand from May 26), which draws on their ideas for accessories and use of ombre colour in standout metal packaging and graduated powders. Despite being known for a less is more runway beauty look, it turns out the pair share firm ideas on makeup.
Taking Proenza Schouler into new territory - they mention menswear - is clearly
how they intend to progress. Whatever direction they head in, these young masters of creativity and 21st-century couture seem destined to make their mark on more than one decade.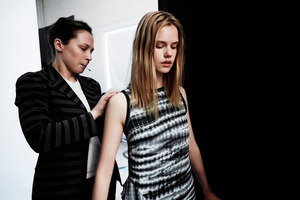 With all those CFDA awards under your belts, do you still feel like the boys who teamed up at Parsons or more like established industry players now? How has your approach developed in the label's 12 years?
JM: The company has grown so much since we first started, but we try not to over-think things too much. We've gone from cutting and sewing our own patterns to building entire teams for design and production. The growth of our business has allowed us to explore new categories, open our stores and produce special projects, like our collaboration with M.A.C.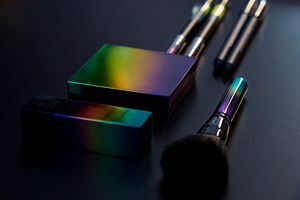 With fashion seasonal and trans-seasonal churn, how do you balance the risk of subsuming your signature style in the search for the new?
JM: Proenza Schouler is not a heritage brand, so creating the brand's DNA has to be a personal process. We feel like we have the freedom to be innovative and push ourselves creatively.


You've spoken of being surprised at the long lead-in time in creating a cosmetic as distinct from a fashion collection. How did this lag influence your approach?
JM: We started with the language, the DNA, and what the packaging should look like, and then evolved it from there.
LH: We picked Pantones for absolutely everything and then M.A.C gave us some variation on the colours, working with a lot of ombre colour palettes. Ombre is something we've worked a lot with in the past, and has that softness we were looking for. There was a lot of back and forth, but we landed in a place that we're really happy with - and that we think people will respond to as well.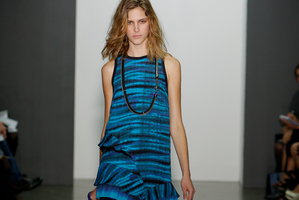 The Proenza Schouler runway girl as realised by [makeup artist] Diane Kendal for M.A.C each season has a sort of undone style. Explain why this is and how it works in relation to the clothes.
JM: Sometimes the clothes can be a little more of a "thing" - really worked, and really couture in a certain way - so we like to downplay that with a more natural face and hair.
LH: We love the juxtaposition of a more natural beauty that makes the look more casual and elevated. Those contradictions are very important to what we do. So we usually keep the beauty "beautiful" - we do makeup, but overall it reads a little more natural, not forced.


Does it feel different to see women interacting with your makeup than with your clothes and what do you expect customers will get from it that is uniquely Proenza Schouler?
LH: There's a "surfiness" to the beauty, and a naturalness in terms of colour. Because it is makeup, though, we wanted to up the ante and do something a little bit different than what we do for the shows. But we didn't want it to be too vixen-y or vampy. It's cooler - there's a breeziness, a nonchalance.
JM: The way we see these products being used is more individually - like maybe she's wearing nothing, but she just throws on a lipstick in a bright colour. Or maybe she's got no makeup on and just has a cool nail colour, or just a little bit of eyeliner and nothing else. We like the idea of just one makeup element thrown in, but there's still a naturalness to the girl. That's how we envisioned this collection being used.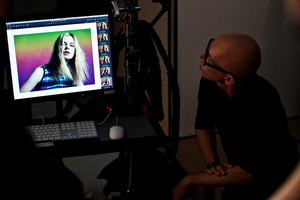 Other than being very cool, how does the oil-slick metallic inspiration of the M.A.C packaging fit your design ethos?
LH: We've done a lot of jewellery in the past, for spring summer 2010, we did this anodised, rainbow, oil slick-y finish. It's metal, but we used this heat process that creates a strange kind of rainbow effect. That was the starting point. It's really a beautiful strong colour but there's a metallic quality to it. It just felt very representative of the brand.


What is the best makeup accessory to wear off the runway with Proenza Schouler?
LH: We've always been really big fans of lipstick, oddly enough. We love the casualness of beautiful fresh skin and a pretty fresh girl then, when she wants to dress it up, she puts on a little lipstick, which adds a bit of punch to the face. We tend to prefer that to a smoky eye kind of thing.


Is more makeup in the pipeline, or perhaps a fragrance?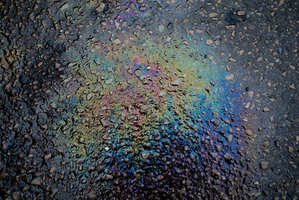 JM: Absolutely. Beauty plays a huge role in what we do, so I think it naturally makes sense for us to explore this further. This is just the beginning! There are so many different directions we can go. We're open to all ideas and don't rule out perfume or menswear next.


Please share a beauty tip of your own?
LH: A little Visine [eye drops] and chapstick [lip balm].


- VIVA