Address:
233 Scenic Dr, Titirangi
Phone:
(09) 817 8655
therefreshmentroom.co.nz
Cuisine:
Casual Italian
From the menu:
Olives $6, Chickpea and mozzarella chips $11, Ravioli small $19, Risotto $28, Braised pork $33, Chocolate panna cotta $14, Quince and apple tart $14.
Drinks:
Fully licensed
Rating:
9/10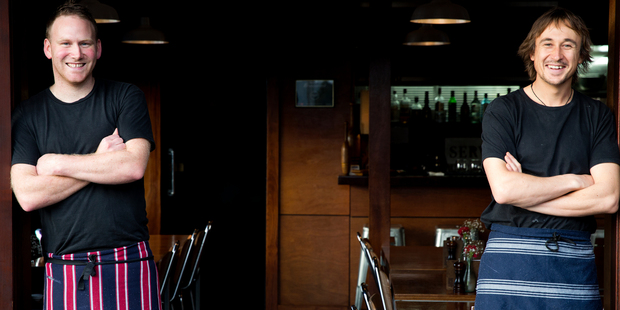 Close your eyes a moment and savour the word "refreshment". Feels good doesn't it? Spacious, vital, holding the promise of nourishment. Now do yourself a bigger favour - next time you're looking for somewhere to eat, drive to The Refreshment Room just beyond Titirangi village. It is the almost-hidden treasure of our dining scene, clinging as it does to the Waitakere Ranges, surrounded by lush native bush and reaching out towards the distant cityscape.
The pleasant drive to get there, the ample parking and the fact that you can make a booking are all reasons enough to venture out of the central city, but there's an infinitely more motivating factor - the food.


The menu is tight, represents casual Italian cuisine to a tee and you'll want to eat everything on it: braised beans, risotto, pasta, gnocchi, slow-cooked meats. The menu reads like a local Italian trattoria, only better because it's packed with local produce enhancing nearly every one of the Italian classics.
When it arrives, our risotto is generously flecked with smoked kahawai and local tuatua, leeks that are soft and sweet with saffron whispering its mysterious flavour in the background and citrus notes doing what citrus does - uplifting the dish and saving it from unnecessary richness. An entree of ravioli, made with the thinnest pasta you'll find, is tender and soft, filled with spinach and ricotta with a hint of smoked mozzarella ramping up the flavour a notch. Crisp sage leaves are scattered over the top and a base of burned butter sauce is utterly delectable. As one of the owners is John Pountney (ex Delicious), you'd expect great things from the pasta dishes and you'd be right - but the kitchen is also lucky to have the talents of head chef Hayden Phiskie and Tim Bailey (pictured), who both look fresh-faced and enthusiastic despite having pulled off a brunch, lunch and dinner shift on the Sunday we dine. They execute the menu effortlessly.
Even the simpler dishes are rendered outstanding at The Refreshment Room. With an uncompromising eye for quality ingredients, a simple bowl of mixed olives is impressive with glossy, tight-skinned olives shiny and in peak condition. Fried chickpea and mozzarella chips, which I raved about when The Refreshment Room opened in 2011, haven't changed. The tomato sauce is still full of sunshine from the kitchen garden's bounty and the batons delight with their golden crust and creamy, soft filling.
I'm tempted by the Angus scotch steak when I note a number of the locals are happily tucking into it, but instead I decide to try the slow-cooked pork shoulder. Paired with a pile of dark, full-flavoured silverbeet and a wedge of gloriously cheesy baked semolina gnocchi, the meat is stringy and - dare I say it in these health-conscious times - lacks enough fat to keep it from drying out. Never mind, we are having a fine old time watching the day fade into night, enjoying the relaxed atmosphere, and there are more highlights still to come.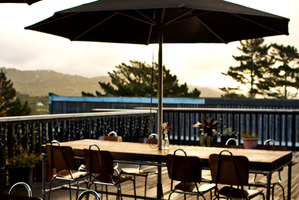 The Refreshment Room doesn't fade when it comes to desserts. A bitter chocolate panna cotta is a revelation in its texture and intensity. Serving it with a sharp creme fraiche and a marsala-doused roasted pear to cut through the richness is pure genius. An apple and quince tart is exceptional with a dangerously short sweet crust smothered in quince paste then topped with slices of caramelised apple before being baked and served with honeyed ice cream. It is almost savoury in its flavour profile and represents autumn brilliantly.
Our waiter informs us the tart is based on an Albert Roux recipe, and I think the legendary chef would be proud of The Refreshment Room's masterful effort.
So many factors contribute to the memorability of a dining experience. There can be awe-inspiring fit-outs, menus comprised of expensive and decadent ingredients, kitchens headed by chefs who come with their own TV shows and cookbooks. The Refreshment Room has none of these things, yet it slowly and surely charms you with a collection of small moments, staff who are amazingly personable and food that is stunningly good and leaves you thoroughly soothed and satisfied.
- VIVA