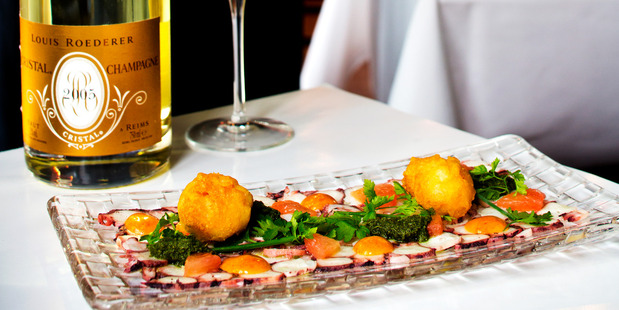 Finding the perfect partner can take time, but as in the case of O'Connell St Bistro, it's worth the wait. The restaurant, which celebrates its 18th year under the helm of owner Chris Upton, is a true catch. It is a restaurant with integrity. It isn't swayed by trends or fads, yet is open to evolving in a way that stays true to its inner essence.
It has the sex appeal of the French and an international sophistication, yet there is no big ego, just a charming ease and self-confidence. It evokes loyalty in its customers, who are treated like firm friends, and in its staff. It has a menu that not only provides the time-honoured favourites we love but also, like a good partner, continues to surprise you in delightful ways.
The O'Connell St Bistro doesn't give itself away lightly, so its new marriage to the French champagne house Louis Roederer is truly something to celebrate. What a catch. A partnership so meant to be.
In the true, elegant spirit of this coming together, you are invited to an exclusive five-course degustation prepared by head chef Alex Strobach, where each dish will be matched with Louis Roederer's brut, rosé and demi-sec wines, along with a special dish matched with Cristal, the Champagne created for the Tsar Alexander II of Russia and one of the world's most famous and highly respected prestige cuvees.
With the delightful Chris Upton as your host, the passionate Eurovintage representative Ben Longhurst there to discuss the wines, and the debonair restaurant manager John Logan at the helm, you are guaranteed a stimulating and truly memorable evening.


• Friday 9 May, 6.30pm, 3 O'Connell St, Central
City. Limited tickets available, $195. To book, ph (09) 377 1884 or info@oconnellst bistro.com.