Angela Casley fills her basket with fresh produce and specialty ingredients to create this light late-summer feast.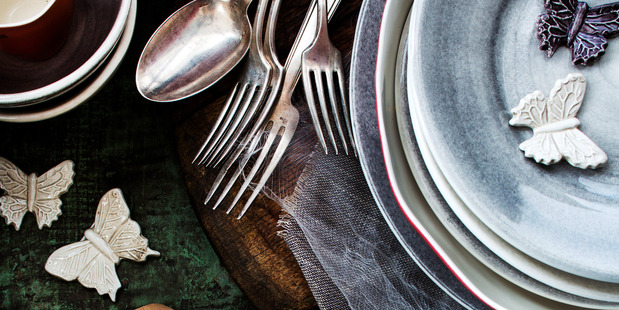 I found real treats at the La Cigale market over the weekend. I filled my tum first - coffee and an almond croissant - then went about shopping for delightful fresh produce and tasty morsels to help make my evening of entertaining inspirational and tasty. As usual, my shopping bags were bursting.
It wasn't hard to find takers to come for a glass of rosé and light dinner. After a visit to the market, dinner is often light as lunch can be a little over the top. I can't leave La Cigale without a croque monsieur, and always bring home a cornish pasty. Some things just taste better when they are cooked for you.
The summer produce is still abundant - I get so excited by the display of tomatoes, herbs, fruit and vegetables. The late sun which, thankfully, has arrived, has everything looking perfect and the flavours are outstanding. I am eating tomatoes on Vogel's topped with a poached egg for breakfast - the perfect way to start the day.
I bought a large variety of tomatoes at the market. They simply need tossing in a large bowl with a few other ingredients to make this light and tasty salad.
My super-sprouts came with edible flowers through the mix, but they can be sourced separately. Everything in this salad was found at the market.
I bought the fresh turmeric not quite sure which dish it was going into, so decided to make this delicious honey drink, using it fresh. The vibrant orange turmeric has all sort of health benefits. You can also boil it for 45 minutes then dry it in the oven and grind it to a powder as another option in curries and other Asian dishes.
There was no way I could walk past the eye-catching shitake mushrooms, they looked so luscious. I saved some for a herb and mushroom omelette. Here I have made a favourite spinach, cottage cheese and mushroom filo. Often I will make individual parcels, but this is a large one that can be easily sliced.
I was amazed at the market's smoked fish selection. I confess to using a tin of tuna occasionally in this beetroot salad for a quick dinner, but this beautiful fresh smoked fish is a delight. Mixed with raw grated vegetables, fresh herbs and a light Asian dressing, it is quick and easy, and again, all sourced from the market, even the nuts for the top.


Recipes:
• Mixed tomato and mozzarella salad
• Beetroot and smoked fish salad


- VIVA