The very leggy model-turned-stylist-turned-designer talks about branching out into makeup and collaborating with Bobbi Brown.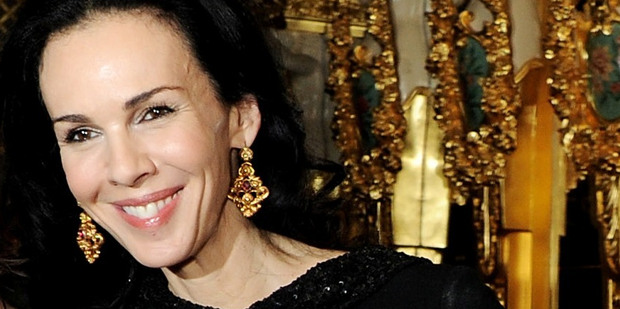 Growing up in Utah, how exposed were you to fashion and beauty, and what influenced your style as a teen?
I had very limited access to high fashion, which is why I left at such a young age to go and live in Paris. My mother was very elegant and chic and had fabulous style: she was quite minimalist and loved colour.
As a child, I always loved making dresses for my dolls and grew up with a passion for fashion, but where I lived, you had to order Vogue magazine, and I went to pattern stores to see the latest home dressmaking patterns from Vogue and Butterick so I could make my own clothes.
I was a spindly beanpole (who grew to 1.93cm) so I couldn't find ready-to-wear clothes that were long enough. I would buy old vintage dresses in beautiful silk moire and taffeta, and re-cut them to suit my proportions.
My entertainment was going to the local dollar movie theatre on the weekend, where I watched old black and white movies. If you wanted current movies, you had to drive to the big city.
My style icons were characters from those old Hollywood movies, and the great costume designers who created their wardrobes.


Moving to Paris at 17 to pursue a career as a model, how did living in France shape your perceptions of beauty and style?
I don't think I realised the extremes of my proportions until I moved to Paris. I thought I'd be "normal" as a model but, actually, even in that world, I was at one end of the spectrum.
But when I went to the Paris ateliers, I learned the secrets and importance of fitting clothes perfectly. When a garment is in sync with your body and its proportions, it looks and feels amazing, and in France that is something that all women know from a young age.
I loved the way French women would wear just lipstick or mascara: their beauty philosophy was simple and made a statement with the eyes or the lips. It was different to the full makeup women in the US were wearing at the time and is kind of how I am now. If you are pressured for time, it's about achieving a pared down but polished look easily.
Bobbi Brown [with whom Scott has a makeup collaboration called Amnesia Rose in store now] really taught me a lot about using minimal makeup well: she knows how real women live and makes products that work as hard as we do. So I grab Bobbi Brown's Pot Rouge and just do that pop of colour on the cheeks, or a stain on the lips.


How would you describe your personal style?
It is hard to objectify myself. I can't tell you what I think my style is. I like beautiful things that are well crafted. I like luxury. I like silhouettes and textures. When I design a collection it has a distinctive point of view that I can explain because it has a defined, cohesive philosophy behind it.
But, when I wake up and dress myself, sometimes I am rock'n'roll girl in jeans and stilettos, and sometimes I am a headmistress in a clean dress. I never think about what I am going to wear the day before.
Sometimes I think I should! I save things from past seasons, as I don't like wearing things just once or twice. I am a fashion hoarder who loves a classic, but I believe if things work for you, then you should stick with them and perhaps have them in different colours or fabrics to add variety.


What are your personal style signifiers?
I think everyone evolves over the years, but I have always had the silhouette that I know suits me. I am never going to wear a frothy, poufy thing that sticks out because I have found a style that works for me and I stick with it.
But that does not mean I don't design different for my customers ... they just would not suit my own shape.


If you could have lived in a different era in terms of the fashion and look of the time, when would you choose?
I can't even go there! I am obsessed with style from all decades: my previous collection, shown at London Fashion Week in September 2013, was inspired by late 16th century Japan. I am fascinated by the way costume and dress evolved through history and in different cultures.
The Dark Ages were cold and definitely not glamorous, but other than that I could be happy living in any era. I love the Georgian period, the Victorian era, everything! I find beauty in the style of the 1930s, 40s and 50s ... it is all interesting to me, and I love to be surrounded by and stimulated by it all. It can all influence me in my work.


Do you feel makeup is empowering?
Throughout history, women and men have worn makeup to build confidence, enhance their appearance and have fun. Look back to Egyptian times and it was very much a cultural ritual. In the 17th century, men wore far more than women, and we've now become the main wearers, in Western society at least.
When I was working as a model, I preferred not to look in the mirror when great professionals were doing my makeup, because they were artists creating looks that were so different to the way I saw myself. They were truly talented craftspeople and were creating a whole other character on my features, and it was like playing a role.
So, yes, it is a very powerful tool in terms of your appearance and can be used in so many ways.
Personally, my own makeup philosophy is very aligned with Bobbi Brown's, which is that I think you should see the woman first, not her makeup. I want to look at someone and think she is beautiful, not that her makeup is beautiful. Cosmetics should be used to enhance, not mask.
As a designer, when someone wears my clothes, the biggest compliment I can receive is that the women looks amazing, because my designs have flattered her, not taken over her. I take that philosophy to heart myself each morning when I am getting ready for the day.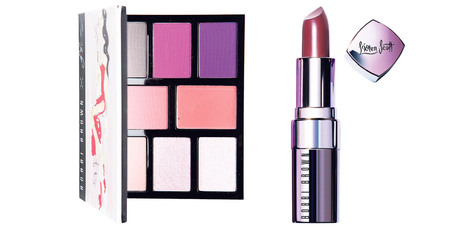 What are your favourite makeup techniques and tips?
I always use my creams on a daily basis: I am a big fan of Dr Colbert and Dr Brandt. So I use my moisturisers with SPF, and an eye cream, plus a serum, depending how hydrated my skin is. I have learned over the years that if you take care of your complexion, everything else is easier. You have to start with healthy skin.
In terms of my daily makeup, I prefer to be low maintenance. I have recently discovered and really love the Bobbi Brown Retouching Powders because they're so easy to swirl on and they refresh and radiate your skin.
I use my fingers to apply most things but, with a great brush you can get a truly professional finish, and it doesn't have to be fiddly.
It's always worth having a lesson from a trained makeup artist, who can teach you techniques that really work on your face. Bobbi Brown's team really helped me with time-saving, pro tips that make a big difference to my morning routine.


In your work as a Hollywood stylist and as a designer, you've seen many "icons" in the "raw" and then red-carpet or photo-ready. What do you say to young women who believe the illusion of celebrity beauty?
I love women of all shapes and sizes and believe that looking great isn't about fitting some template. Tall, small, large, medium, I love to see women who are comfortable in their skin and enjoy dressing to suit their body and their lifestyle. That's what looks fabulous because then you feel confident.
A great challenge for me is to make someone who has never really discovered their style feel comfortable and confident - that is a job well done as a designer.
I have curvy clients I dress all the time. It is my most exciting, greatest thing. People look at me and my own stature, and think that is who I dress, but it's not. I relish the chance to work with women of all sizes to create looks that make them walk with that spring in their step.
It is all about finding a silhouette that works for you and your body. I would say that is the same with makeup, too. These women have found styles and techniques that work for them and help them shine.


What defines a beautiful woman?
It comes from the person. It is her soul. Confidence is something that really makes a woman beautiful. When someone feels confident, she shines. When I do my job as a designer, I focus on building confidence, so she feels fabulous in a dress and feels easy, going out walking tall.
I think that's very much in line with the Bobbi Brown philosophy: she sees beauty in every woman and helps her bring out the best in her.


How has your beauty routine evolved over the years?
I think when you are young and you don't really need makeup, you wear too much: I couldn't get enough of it in my teens. Then, in my 20s, I hardly wore it. I didn't wear foundation until I was about 35.
The technology in modern cosmetics is incredible now, and foundations are light and easy to apply so you aren't wearing a mask, you are just evening out your skin tone and making your complexion more radiant.
I like to have a simple, accessible makeup bag. I like a palette with a big mirror so I can apply makeup on the move, whether I'm in the car (not driving!), on a plane or in an airport and having to go straight to a meeting or engagement.
I developed the Amnesia Rose palette with Bobbi [Brown] as a real example of the kind of capsule collection that I carry with me every day. We have put a Pot Rouge in there, as I love that multi-tasking product.
The eye colours can be used for day wear, then add the purple for evening, so it's easy to adapt as your schedule moves on.


How do you feel about the ageing process and the pressure on women to stay looking youthful?
I think the best thing is not to think about it. As a teenager I cried a lot because kids were making fun of me because I was super-tall and gawky.
I remember complaining that my mother didn't understand my plight because she was 5'1", but I couldn't see that everyone is different and has their own insecurities, however old they are.
My mother said to me then that she was "the same person inside as she was at 17".
I didn't really understand what she meant until I was about 30, when I realised I still felt the same inside as I did as a teenager. Ageing is a state of mind. As you get older, you have more experiences and it's exciting to learn from that. Life is an education.
Okay, you have to adapt to your body and the physical changes, working harder at the gym and using more creams, but I just think being youthful is about your approach to life.
I want to take care of myself, so I am healthy, so I eat well and exercise. The only person who can make you feel good or bad about yourself is you, so your mental and physical wellbeing are really important.
The great thing about turning 40 is I now need reading glasses so I don't see the flaws when I look in the mirror!


You spend a lot of time travelling: what are your must-pack essentials?
When I get on a plane, I always pack Bobbi Brown Extra Face Oil, Rodin Lip Balm and Caudalie Beauty Elixir, which I spritz over the oil before and during the flight so my skin stays hydrated. I ALWAYS drink lots of water.
When you travel a lot you have to think about your wellbeing: I have to go straight to work or events when I touch down, so how I feel is really important.
In my flight bag I always carry music, my Kindle, and my favourite thing about planes is that there are not phones. I love being radio silent. I always have sunglasses - I am the girl who prefers to sneak in and out of back doors, if I can.


What is your exercise and wellbeing regime?
I try and do 20 minutes' workout, five times a week, riding a bike, or using an elliptical trainer. It's really important to be active so I walk a lot, take the stairs rather than the elevator and play tennis. I feel grumpy and fatigued if I'm not active, and feel energised if I am.
I am a three meals a day girl. If I don't eat properly I am not focussed. I ensure I eat really well - lots of protein - and during Fashion Week, I drink lots of juiced vegetables.
I believe breakfast is important, so I load up in the morning. Eggs and bacon would be my ideal start to the day. However, I don't eat bacon daily and prefer egg whites.


What is your ultimate luxury?
Luxury is very much a personal thing. It's a view. Leg room. Being with my family. Having a day off without touching a phone or a computer - I am so happy when I disconnect for the afternoon.


From the outside looking in, your life appears to be glamorous. Is that the case?
Glamour is a state of mind; it is a feeling. The illusion of glamour is hard work: the fashion industry works very hard to create that. I would much rather be behind-the-scenes working than doing the supposedly glamorous stuff.
There were thousands of hours that went into the gowns in my show, hand-stitching and finishing a dress.
I sit sewing beads myself, putting in 20-hour work days before a show because that is what I do to achieve the results I want in my work. But it is glamorous doing something I love, that I am passionate about. I am very privileged to [have] that and work with interesting, talented people.
The fashion community is inspiring and creatively stimulating, and I think that is glamorous.
I don't have a lot of time to go to the hairdresser and have my makeup and manicure done. But I do that for my runway show. It is not how my life is every day.


You are renowned for your Little Black Dresses. Do you think there is a cosmetic equivalent?
That was the reason I launched my collection. I couldn't find the right one that ticked all the boxes for me, so I created that and it's become a go-to dress. I think the red lipstick is the cosmetic equivalent.
You notice a woman who looks sensual with bold, statement red lips. Lips are very sensual and men notice that - and women look on with great envy.


Tell us about your collaboration with Bobbi Brown?
The Amnesia rose is my signature rose, and grows at my chateau in the Loire Valley.
When Bobbi came to London to work on my debut show in London, in Spring 2013, I sent her a big bunch of these roses after the show, and said I was already working on the next collection and we should consider creating a palette for it.
A couple of weeks later, I flew to New York and we worked on the colours together. I wanted a pale matte grey and a pretty Silver Lilac Sparkle shadow for sensual, bright smoky eyes, then a darker purple to create a sultrier look for evening.
Then there are pretty, soft, shimmery pinks and nudes in between to add feminine drama.
We put the Desert Rose Pot Rouge within the palette with a Sand Pink Blush, so you have all your face colour together with a large mirror.
We've included a lovely Smoky Eye Mascara in the collection, because that's a real essential, and a Smoky Long Wear Eye Pencil to add that extra depth and intense pigment on the lashline.
I am crazy about the four creamy matte lip stains - and the rose gold casing is just divine.
The dark wine colour is sensual and dramatic, and my models wore it in the show in September. The Vintage Red is a true classic red, that is a go-to shade whenever you need that "trick up my sleeve" moment.
The Cosmic Lily Pink is a really pretty, feminine pink and there isn't a skin tone it doesn't look great on. And the Heather Mauve is a paler beige that is fabulous for every day. You don't need to be a makeup artist to create beautiful results with Bobbi's makeup: the textures and formulations are all really easy to apply and blend.
It's the perfect do-all kit, and I can go from day to night really easily with this in my bag.


Read more about the collaboration here.


- VIVA