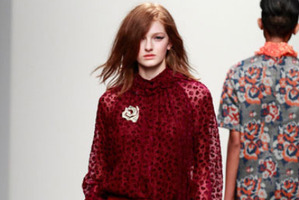 It is fitting that a New Zealander is behind a fashion show paying tribute to the revolutionary suffragettes, a senior fashion lecturer says of designer Karen Walker's latest collection at New York Fashion Week.
Walker unveiled her fall 2014 collection today, which used the Suffragettes as its inspiration.
"What we really liked about the suffragettes as a starting point was that reinvention and questioning of beauty and what that is,'' Walker said backstage before the show.
Auckland University of Technology senior fashion lecturer Kathryn Hardy Bernal said the loose-fitting, utilitarian, yet stylish collection was an appropriate nod to the Suffragettes.
"In the Victorian period, women were in very constrictive, even dangerous clothes that restricted their movements and caused injury. Sometimes it was even fatal. For example, the metal boning would come out of corsets and pierce women in the lungs,'' she said.
"As well as fighting for the vote, the Suffragettes started wearing comfortable, more utilitarian clothing so they could actually have a life. It was about liberating women from restrictions that prevented them from enjoying life.''
New Zealand was the first country to give women the vote in 1893, some 27 years ahead of the United States and 35 years before the United Kingdom.
"I think it's really appropriate that it's a New Zealander doing this kind of thing,'' Ms Hardy Bernal said.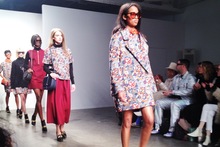 "I think this Karen Walker collection does quite well; it's an adoption of men's design elements but it's still clothing for women. It's saying `I am a woman but I'm wearing something that gives me the same freedom as a man, in comfort and in style'.''
Walker's collection uses full, feminine skirts made in a durable drill, prim Victorian elements - frill collar, buttoned up shirts - sitting with a largely utilitarian, work-wear inspired blue palette.
She uses prints made up of spanners, bolts and broken hearts and continues the Suffragettes' tradition of using slogans:"Faster Better Stronger'', "Young Willing and Eager'', "Liberal Miserable and Cynical''.
Walker said she did considered herself a feminist. "Isn't everyone?'' she asked.
"We're all lucky that living in 2014 we're not the ones being called upon to fight those fights - so much has been done for us. But there are a lot of places around the world where they still haven't got that and the same rights - in Africa, a lot of these women aren't even considered citizens.
"If I was in 1895, I'd be holding up those placards; I'm just lucky that I don't have to. Today I get to tell my story and make my point of view in different ways.''
SEE MORE FROM WALKER'S SHOW HERE: