Tantalising finds on your travels, writes Angela Casley, add up to some of summer's best taste memories.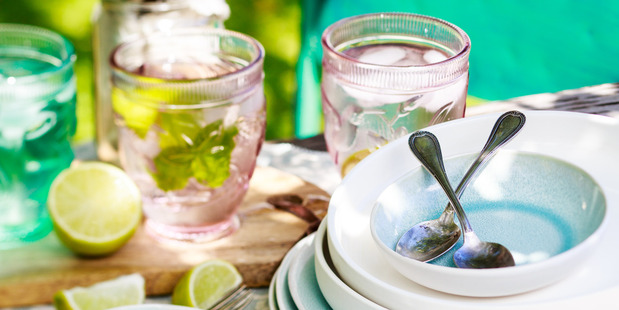 There is nothing more pleasurable than pulling over during a road trip and discovering stalls or pop-up trailers selling fresh summer produce. Knowing it is grown locally and is no doubt fresh from the field, makes it taste even better, and the colours are always so vibrant.
Right now, you can't beat the flavour of tomatoes grown outside in the summer sun, and we've had plenty of that. The corn, which I thought might be late through lack of water at the end of last year, has arrived and is deliciously sweet.
For me, the easiest, most perfect lunch is corn popped in a pot of salted water and boiled for just five minutes. All it needs is a blob of butter and a generous grind of pepper. Corn is also delicious cooked in the husk on the barbecue. The flavour is undoubtedly a summer pleasure.
Sweet, delicious watermelons are another treat from roadside stalls. Try this watermelon salad -there's no need to add an array of other flavours - it speaks for itself.
As the goat's cheese softens, it brings creaminess and adds a unique texture to the fresh and cleansing salad. This is a great way to show off watermelon and goes well with barbecued chicken or fish. It's a true summer dish to enjoy while the components are at their best.
Watermelons are also perfect chopped up for a picnic. Keep the pieces in the chilly bin and at lunch they'll be a welcome wedge of cool sweetness. If, like me, you always tend to buy far too much, make fresh watermelon and pineapple juice with a squeeze of lime and a sprig of mint.
For something with a bit of heat and spice, the roadside chillis I found were great for this piri piri sauce.
Made with the seeds left in, it is definitely not for the faint-hearted, but you can remove them for a version that's more family- and guest-friendly. It's very simple to make so, if you have an abundance of chillis, make double and save some for next time. As a rub for barbecued chicken or fish, it is a quick way to add intense flavour.
We all long for the arrival of sweet summer berries. As children, one of our family outings on hot summer days would be to pick fresh blackberries from the brambles growing wild at the back of the farm.
It was so hot - but we would persist and fill our baskets. We would pick and eat until we could eat no more. The berries would make wonderful fresh fruit desserts and we would scatter them on our cereal or eat straight from the bucket.
This berry slice is an old family recipe, however I have added a little almond essence to the base. Instead of using just blackberries, I have used a mixture of fresh berries. To make it a little decadent, add whipped cream and a scattering of fresh berries to serve, or do what I do and simply eat it as is.


Recipes:
• Watermelon and goats' cheese salad
• Piri piri chicken
• Favourite summer berry slice


- VIVA