Each Thursday Eleanor Ozich of Petite Kitchen will share her thoughts on healthy eating, with recipes and more.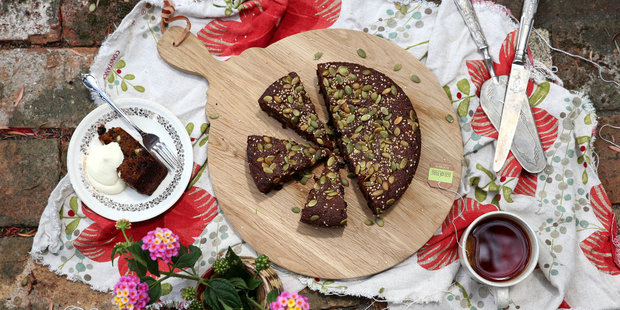 This incredibly moist fig and nut flour cake is sweetened with rich and delicious rapadura sugar. This gorgeous unrefined sugar is a dark caramel colour and has a far higher nutritional content than most types of sugar.
It has a beautiful toffee flavour, and contains molasses, making it a wonderful alternative sweetener. Please remember rapadura is still a form of sugar, and is best consumed in moderation. You could also use muscovado or coconut sugar in this recipe.


FESTIVE FIG AND NUT FLOUR CAKE SWEETENED WITH RAPADURA SUGAR
• 2 cups ground almonds
• 2 cups dried figs, roughly chopped (or any dried fruit of your choice)
• 3 free range eggs
• 1/3 cup extra virgin coconut oil or butter, melted
• 1 cup of rapadura sugar
• 1 tsp baking soda

For decorating:
• A handful of seeds (I used pumpkin, sesame and chia).


1. Preheat oven to 160C and grease a cake tin with coconut oil or butter.
2. In a large bowl, add ground almonds and figs, and set aside.
3. In a blender, add eggs, coconut oil, rapadura sugar and baking soda. Blend until smooth, and then add to dry ingredients.
4. Mix until well combined, and then pour into prepared cake tin. Sprinkle pumpkin seeds on top.
5. Bake for 40-45 minutes, or until a skewer comes out clean when inserted.

*gluten free
*wheat free
*dairy free

Eleanor will be back with more healthy, delicious recipes on January 16th.