Eat your way around your local market these holidays with our go-to guides and favourite finds.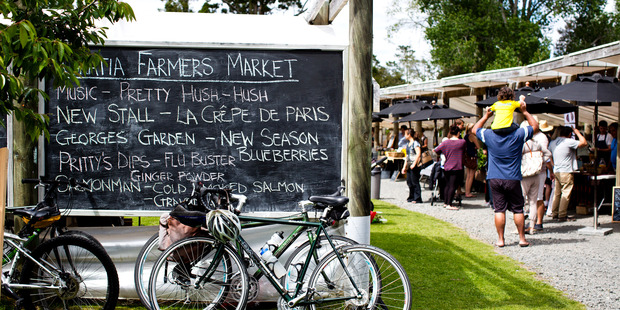 GREY LYNN FARMERS' MARKET
The corner market that has recently gone 100 per cent palm oil-free is a great spot to drive by and grab a loaf of artisan bread from Blackwoods Bakery, or stock up on organic herb seedlings to plant in the afternoon and eat in the coming weeks. Every Sunday, 9am-12.30pm, 510 Richmond Rd.
Don't leave without:
• Narbey Olive Oil infused with lemon and lime $20, perfect on a salad.
• Ruru Macarons cocktail range $10 for a 6-pack, with flavours such as pina colada and black Russian.


MATAKANA FARMERS' MARKET
It's worth fighting the crowds at this foodie favourite to stock up on handmade oils, relishes and chocolates or indulge in a five-course market meal of mussel fritters, thai sausages, woodfired pizza, raw juice and creamy cannoli. Matakana Square, 2 Matakana Valley Rd, 8am-1pm.
Don't leave without:
• Cobara Foods cashew butter, $12, all natural and utterly delicious.
• Organic Delights coconut and raspberry gluten-free wafers, $7.
• Matakana Pottery Co butter pot $10-$40, proceeds go towards restoring the historic Matakana Dairy Factory.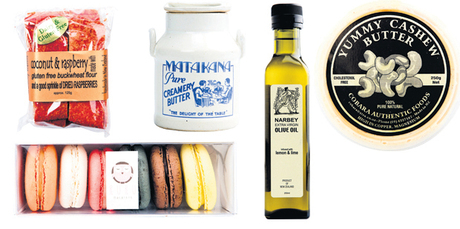 ORATIA FARMERS' MARKET
Small and quaint, the stalls here are perfectly chosen, each stocking excellent quality meats, fruits, vegetables and cheeses, perfect for filling the fridge at home. Grab a delicious pastry and enjoy the live music by the stage, or pop next door to Artisan Wines for lunch if you don't fancy preparing your own.
Every Saturday, 9am-12pm, 99 Parrs Cross Rd, Oratia.
Don't leave without:
• Sa En Aungkh Waters of Life drink. A symbiotic culture of bacteria and yeast to promote healthy digestion. $15 per bottle or $20 for two.
• All-natural Italian bacon sausages from Sam's Butchery, $8. This winner of Bacon of the Year 2013 also stocks delicious smoked pork fillet.


BRITOMART CITY FARMERS' MARKET
If on a staycation you can go country in the city at Britomart's weekly market, held every Saturday from 8am-12.30pm in Gore St. We recommend picking up a takeaway Kokako coffee, grabbing some fresh summer fruit and sitting in the grassy square for an impromptu picnic, where the local entertainment should drown out any hint of city traffic.
Don't leave without:
• Sweet Red Scrumptious Strawberry Jam, $6, and some strawberries to go with it.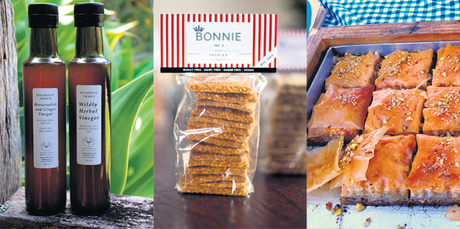 OSTEND MARKET, WAIHEKE
Worth a boat trip for the market alone, you'll find home-grown delights, live music, massages and plenty of stalls to fossick in at this island haven. From 7.30am every Saturday morning at the War Memorial Hall, Belgium St, Ostend, Waiheke Island.
Don't leave without:
• The award-winning Jenny's Kitchen Tamarind chutney, $13.80, from a stall inside the hall.
• Orktay's delicious Turkish delights including baklava with pistachios, dolmades, feta-stuffed pimentos and borek, delicious roasted red capsicum dip with cashew and sun-dried tomatoes, and the sunflower seed and jalapeno hummus.
• Epicurean Tonics from Plant Medicine, $20 a bottle, these are alkalising and gently detoxifying, great for liver, skin bone and digestive health.
• Waiheke Island herb spread, delicious as a dip or under your poached eggs.


HOBSONVILLE POINT FARMERS' MARKET
Worth the drive out west to this friendly market, housed in a big converted shed near a RNZAF Base - convenient for rainy days. Expect live music, good coffee, a good range of foodie stalls and community feel. Every Saturday and Sunday mornings from 9am to 1pm.
Don't leave without:
• Delicious gourmet smoked salt blends, made with Biogrow certified solar sea salt and blended with herbs and spices, from Down at the Farm. $7-$8.
• Indulgent Hungarian bread topped with walnut and watercress pesto, tomato, feta and herb or plain and simple with fresh garlic and sea salt.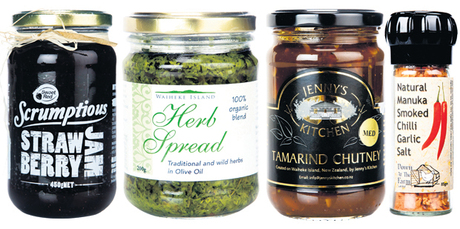 LA CIGALE FRENCH MARKET
One must always go hungry to this Parnell food haven - and ideally start with an almond croissant and coffee before stocking up on fresh rocket and wild mushrooms and, of course, a variety of French cheese and bread. Saturday 8am-1.30pm and Sunday 9am-1.30pm at 69 St Georges Bay Rd, Parnell.
Don't leave without:
• Bonnie oat crackers, $6 each or two for $10. Baked in the style of the Scottish oatcake, these wheat, dairy and preservative-free crackers come in tasty paprika, linseed or original flavours.


FRANKLIN COUNTRY MARKET
Soak up the authentic country vibe at Pokeno Village's main street market, held in a paddock every Sunday from 9am-4pm. We recommend a slow wander to soak up the relaxed, rural feel, checking out the fresh milk products from local independent dairy company Green Valley, or picking up some free-range eggs from Don, the egg and vege man. There's also locally made cheese, flowers, fruit and vegetables and great coffee.
Don't leave without:
• Spray-free herb and vegetable plants from Mandeville Gardens. Owner Mandy stocks hard-to-find herbs like amaranthis mekong and a huge variety of chilli plants, all essential for cooking Asian food.
• Delicious baklava from the Turkish stall.


- VIVA