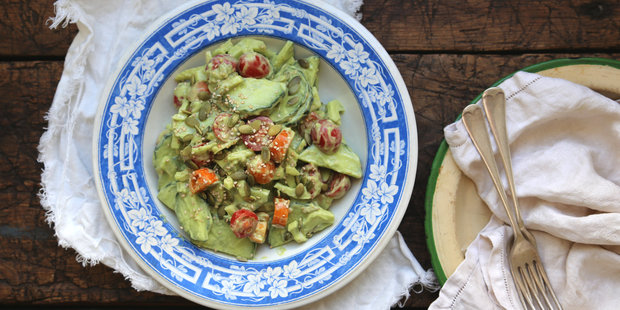 KEY POINTS
Each Thursday Eleanor Ozich of Petite Kitchen will share her thoughts on healthy eating, with recipes and more.
With the warmer weather approaching, I find myself wanting to spend less time cooking in the kitchen, and craving light, fresh salads. This lovely fennel, cucumber and Italian cherry tomato salad is fantastically quick and easy to make and has beautiful bright vibrant flavours. Dressed with a creamy avocado, garlic, extra virgin olive oil and lemon juice dressing, it is perfect on its own as a light meal, or works wonderfully as a side dish.


RAW FENNEL AND CUCUMBER SALAD WITH CREAMY AVOCADO DRESSING
• 1 telegraph cucumber, sliced lengthways, then sliced 1 cm thick
• A punnet of Italian cherry tomatoes, each sliced in half
• 1 fennel bulb, very finely sliced
• 1/3 cup toasted seeds
For the dressing:
• A handful of basil
• Juice of 1 lemon
• Flesh of 1 avocado
• 1/4 cup extra virgin olive oil
• 2-3 cloves of garlic
• 1/4 cup water
1. To prepare the dressing, place the basil, lemon juice, avocado, extra virgin olive oil, and garlic in to a blender.
Add a large pinch of sea salt and pepper, and then blend until smooth.
2. With the blender running on low, add the water a little at a time until the dressing has reached the consistency you desire.
3. Place the cucumber, tomatoes and fennel in a large salad bowl.
4. Add the avocado dressing, and toasted seeds, then toss well.
Best served immediately. The dressing can be made in advance, and will keep up to four days, stored in an airtight container or jar in the fridge.
* gluten free
* dairy free
* vegetarian
* vegan
* raw
- VIVA