Bring an exotic edge to your next meal with Angela Casley's delicious tea-infused dishes.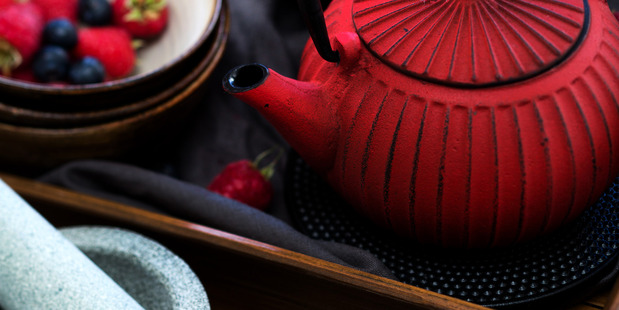 Next to water, tea is the most consumed beverage worldwide. For me, it's the reason I get out of bed each morning. There's nothing like that first cup of the day.
It is the ritual of tea drinking that makes it so special - whether it's in a Japanese ceremony or over a sponge cake with friends.
Much of the world's tea originates from India, Sri Lanka and China, and even New Zealand is now producing its own, Zealong Tea, in the heart of Waikato. There are so many teas and blends worldwide, and we all have our favourites. Wonderfully, their unique aromas can also bring an aromatic edge to cooking.
Prawn and jasmine risotto may sound an odd combination, however, the subtle flavours of the tea will be a pleasant surprise. Play with the flavour by using a stronger or weaker tea. I use a stronger brew and, for the chicken stock, I add half water to ensure the jasmine flavour shines through.
Don't be tempted to add the asparagus too early. Asparagus tastes better with a crunch and adds vibrant colour to the dish. Served with a generous side salad, this is a great summer meal eaten outdoors under the umbrella.
For a long time Lapsong Souchong was my choice of tea. I was addicted to its smoky flavour and following a a recent visit to the Mt Eden tea shop, Chapter, this smoked chicken was devised. It is a bit of a process, but the result makes it well worth the effort. I have served it as a main here, but it is also fabulous sliced thinly and tossed in a salad. This helps to make a little go a long way.
Finally, if you don't have an icecream maker, don't be put off making this icecream. Simply put the custard in a plastic container, place it in the freezer for two hours, remove and beat it to break up the icicles, then refreeze. It will be a slightly different texture to machine-made icecream but the flavour will still be divine.
Chai, a popular tea drink in India, has become a popular cafe drink here. Spicy or sweet options are sold by health stores, but why not make your own? Control what goes in and get the sweetness to your liking.
It is so easy to make with a few simple spices and is a wonderful dessert.


Recipes:
• Jasmine risotto with prawns
• Tea smoked chicken breasts
• Chai icecream


- VIVA