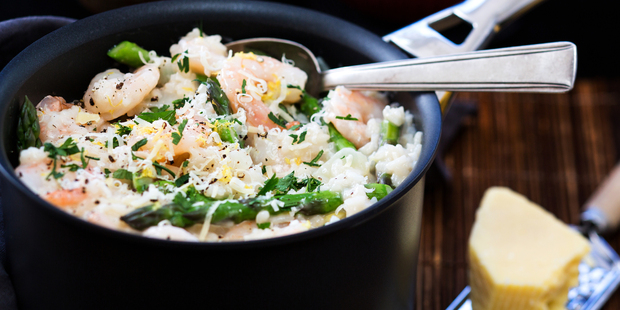 Jasmine risotto with prawns. Photo / Babiche Martens.
Jasmine Risotto with Prawns
Serves 4
• 1 cup strong jasmine tea
• 1 litre chicken stock
• 2 Tbsp olive oil
• 20g butter
• 1 onion, chopped
• 3 cloves garlic, crushed
• 400g Arborio rice
• 200ml white wine
• 1 bunch asparagus, cut into 5cm pieces
• 400g raw prawns
• 80g Parmesan cheese
• ¼ cup chopped parsley
1. Add the jasmine tea to the chicken stock. Place in a pot and heat gently.
2. In another large pot heat the oil and butter. Add the onions and garlic. Saute in the pot until softened. Stir in the rice and toss through until heated and slightly toasted but not browned.
3. Pour in the wine and let it be absorbed. Add 1 cup of stock at a time and stir until it has evaporated. Continue the process ensuring the rice is always just covered. This will take about 20 minutes.
4. Add the asparagus, then the prawns and cook until the asparagus is still crunchy and the prawns are bright pink.
5. Stir the Parmesan cheese through. Serve immediately with a sprinkling of parsley.


- VIVA