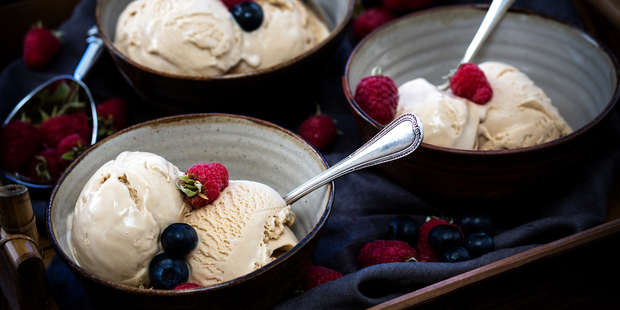 Chai icecream
Serves 4
• 1 cup cream
• 1½ cups milk
• 1 star anise
• 1 stick cinnamon
• 6 cardamom seeds, bruised
• 4 whole cloves
• 2cm piece of ginger
• 1 tea bag
• 5 egg yolks
• 125g caster sugar
1. Into a pot put the cream, milk, star anise, cinnamon, cardamom, cloves, ginger and tea bag. Bring to a simmer, then turn off and leave for 5 minutes to infuse. Strain and discard the spices.
2. Beat the egg yolks and sugar until light and creamy. Slowly add the cream.
3. Return this to a clean pot and, over a medium heat, stir continuously until slightly thickened and your custard coats the back of a wooden spoon. Remove and cool.
4. Churn in an icecream maker, following the manufacturer's instructions.
5. Serve with fresh berries and enjoy.


- VIVA