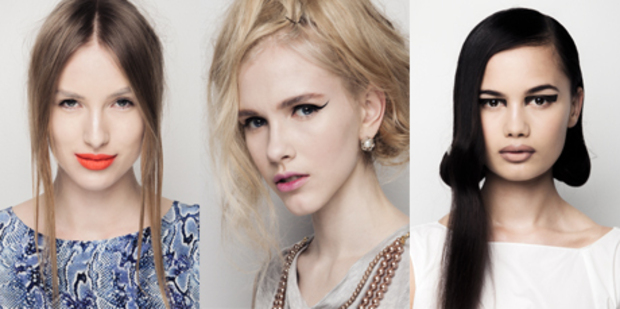 Five top New Zealand designers and two leading hair and makeup teams are bound to do beautiful work together. For an insight into their take on influential new season trends, check out Viva's preview of the show looks for next week's hot-ticket fashion event, The Marr Factory 2013.
Be the first to take these looks from runway to reality, thanks to tips from the creatives at M.A.C and Stephen Marr into how to achieve the looks shot by photographer Oliver Rose. Being fashion, the test shot hair and makeup styles we share with you today, may be tweaked a little by showtime, but there's no doubting bold is the new beautiful. A graphic edge or shots of colour will update your makeup look and hair has shape but softness.
Read on for insights from M.A.C's senior artist for Oceania, Amber D, and Stephen Marr creative director Lauren Gunn who will be directing the hair and makeup backstage on how they achieved the looks for Karen Walker, Zambesi, NOM*d, Helen Cherry & Workshop and Kate Sylvester.
* For tickets to The Marr Factory shows to be held at Golden Dawn from Sunday, August 25 through Thursday, August 29, see iTicket.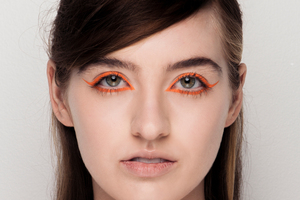 KAREN WALKER
The beauty look is clean and modern. This girl doesn't want to spend forever getting ready, but always looks perfectly done. Match your eyeliner to your clothes by lining the entire eye with M.A.C Chromaline in a corresponding shade. Keep skin flawless and looking real by polishing M.A.C Studio Sculpt Foundation onto your skin using a soft blush brush like the M.A.C #168 Angled Blush Brush.
Hair how to: For this style you will need a blowdryer, a hair elastic and O&M Surf Bomb and K Gravel Clay.
STEP 1
Mist dry hair generously with Surf Bomb beach texturizer and finger-dry it into your hair , the more surf bomb you use the better the texture will be.
STEP 2
Taking 2" sections of hair, wrap the mid-lengths around a medium-sized curling wand to create some waves and bends, then section your hair into a low side-part and brush the top of your hair forwards over you face.
STEP 3
Sweep you hair low across your forehead and back into a half ponytail just below your crown. Pull the ponytail part way through the hair elastic to create a small loop and let the tail hang.
HOT TIP: Scrunch some K-Gravel clay into the ends for extra cool factor and a tough edge.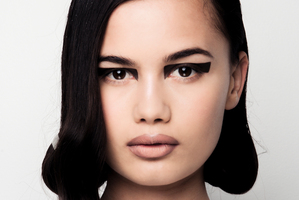 ZAMBESI
Inspired by Japanese manga cartoons and a heavy 90s influence in both shape and tone, the Zambesi woman is bold but minimal. Inspire your own makeup look by choosing more 90s cool neutral tones and shades for the lip. M.A.C Fresh Brew lipstick with M.A.C Clear Lipglass (which is making a big comeback this season) is the perfect choice.
Hair how to: You will need: O&M No Knot and Glitter hair spray, brush and comb, old-fashioned metal slide hairclips
STEP 1
Create a side parting from the corner of your brow to the crown then split your hair into 5 sections. Smooth each section with O&M No Knot and spray with O&M Original Queenie to build some hold.
STEP 2
Taking one section at a time fold the ends of your hair around your fingers in a roll up to chin length then clip the roll flat together with an old-fashioned slide clip.
STEP 3
Repeat Step two for all 5 sections of hair except one section at the front. Smooth any flyaways with O&M Original Queenie.
HOT TIP: Use crocodile clips while you are styling your hair to help keep it in place then slip them out at the last moment.
Photos: Oliver Rose. Hair: Jason Chong Li at Stephen Marr. Makeup: M.A.C. Models: Devon and Jackson at 62 Models. Stylist: Dayne Johnston at Zambesi
NOM*D
A bit eerie, and a lot cool, this girl is OK with letting her eye wear in. Pairing flawless lush nude looking skin with a bold red-toned eye coated with a little M.A.C lipglass will instantly keep your look modern, but be prepared to embrace a more rock'n'roll style creased eyelid. M.A.C Prep & Prime Moisture Infusion is this summer's must have primer for lush hydrated looking skin.
Hair how to: You will need a blowdryer, O&M Rootilicious Volume lift mousse, O&M Frizzy Logic serum, O&M Original Queenie spray, brush and comb and a hair elastic and a few bobby pins
STEP 1
Add a drop of serum to two big handfuls of O&M Rootilicious Volume lift mousse and work it through damp, freshly washed hair from roots to ends. Using a blowdryer, shake out your hair with your fingers until it is 100 per cent dry. Use a brush to smooth around the hairline to get a pretty feminine finish.
STEP 2
Take a U shaped section from temples to crown and clip the hair away. Backcomb or tease the rest of your hair at the roots until it is airy and billowy.
STEP 3
Tipping your head upside-down, gather your hair into a an elastic approximately 15cms from your head. Drop the elastic onto the top of your head, wrap the ends into a messy knot and secure it with pins.
STEP 4
Take out the U-section and lightly backcomb it, then loosely pin it into the knot. To create a soft cobweb texture pull out a few wisps and strays and spray with O&M Original Queenie hairspray.
HOT TIP: Take the nozzle off you blowdrer to get maximum volume and texture.
Photos: Oliver Rose. Hair: Sophy Phillips at Stephen Marr. Makeup: M.A.C. Model: Dasha at Vanity Walk. Stylist: Karen Inderbitzen Waller


HELEN CHERRY & WORKSHOP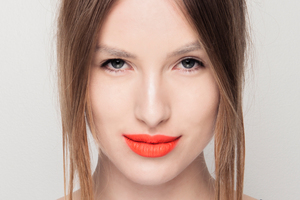 This woman goes from day to night and always looks flawless whether she's dressed in her worn-in jeans or an evening dress. Skin has to be perfectly groomed and lush. M.A.C Mineralize Moisture Foundation will give the skin some coverage and looks like luminous fresh skin. Brows are combed up and a little 90s supermodel fluffy using M.A.C Clear Brow Set. Lips are super bold using M.A.C Impassioned Lipstick with M.A.C Red Electric Pigment pressed on top for an electric super matte lip.
Hair how to: You will need a blowdryer, O&M Atonic Thickening Spritz, O&M Frizzy Logic serum, brush and comb and hair elastic.
STEP 1
Spray dry hair with O&M Atonic Thickening Spritz and blow out your hair with a paddle brush to a natural finish with a fresh clean texture.
STEP 2
Clip away the top section from temples to crown and sweep the rest of your hair over your shoulders and into a low ponytail at the nape. Twist the ponytail once around your finger and bring the ends upwards tying another elastic around the twisted loop.
STEP 3
Unclip the top section and divide it into a centre part, leaving the hair to fall and frame your face.
HOT TIP: Add some O&M Frizzy Logic serum to your hair from cheekbones to tips to create a sleek separated texture through the ends, leaving the natural texture in the top for a fresh youthful contrast.
Photos: Oliver Rose. Hair: Matthew Benns at Stephen Marr. Makeup: M.A.C. Model: Chloe Price at Red Eleven. Stylist: Helen Cherry


KATE SYLVESTER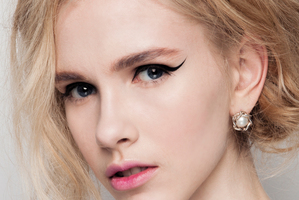 Kate's girl this season is Marilyn Monroe in her Joe DiMaggio years: sporty inspired fresh skin with a little rock'n'roll heavy flicked out eyeliner. The must-have lip this summer includes M.A.C Candy Yum Yum and it sits perfectly alongside the caramel leather, soft whites and pastels in Kate Sylvester's collection.
Hair how to: You will need a blowdryer, O&M Surf Bomb beach texturiser and hair pins and elastic
STEP 1
Load up dry hair roots to ends with O&M Surf Bomb until it feels damp and salty. Blast dry your hair 100 per cent using your fingers to create loads of volume all throughout.
STEP 2
Bring all your hair up into a high ponytail on the top of your head.
STEP 3
Curl the ponytail piece by piece using a medium-sized curling wand. When the curls have cooled down and set, brush out the ponytail into soft waves fanning out from the ponytail.
STEP 4
Take any long strands and pin them up into a bob shape at the nape, but remember to let a few locks of hair loose to frame your face.
HOT TIP: The beauty of this look lies in its effortless finish, it should feel really beachy and worn in. To dress it up add a light sheen of O&M Original Queenie hairspray.
Photos: Oliver Rose. Hair: Lauren Gunn at Stephen Marr. Makeup: M.A.C. Model: Gisele at Clyne. Stylist: Karen Inderbitzen Waller
- VIVA