Ghana cocoa farmer and teacher Rose Boatemaa Mensah talks about how the chocolate you choose to eat affects her community.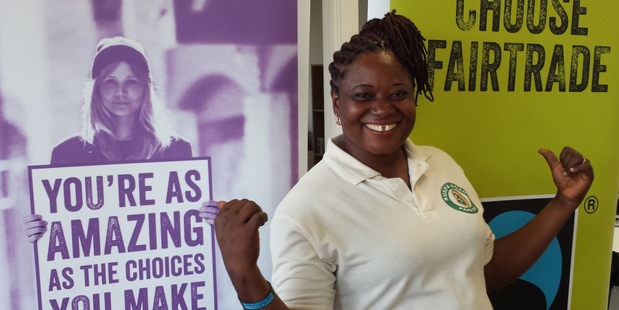 Thirty-year-old Rose Boatemaa Mensah has just arrived in New Zealand for Fair Trade Fortnight. Her cocoa farm in Brong Ahafo, Ghana, is part of the Kuapa Kokoo Farmers' Union, which means her products receive a fair price and an additional Fairtrade Premium is invested into the community.
Fair Trade Fortnight's The Power of You campaign asks consumers to make a difference with each purchase by choosing Fairtrade, thereby choosing to support and empower farmers and their communities, enabling them to take control of their livelihoods.


Tell us about your average day?
My day's activity starts from preparing my children for school during school days. I then prepare myself for teaching. I have a backyard garden from which I get most of my food. Immediately when I finish teaching for the day, I go to my garden for farm work before starting to prepare supper for my family. During the weekends and vacations I spend most of my time on my cocoa farm in the daytime. I take a good rest on Sundays after attending church service.


What has being part of the Kuapa Kokoo co-operative meant for you and your farm?
My life has changed for the better. With the money that I have earned from being part of Kuapa I have been able to build my own house.
I am able to support my family financially, my children's education and other family issues which I was not meeting. I have received training on how to improve the cocoa [yield] and proper farm maintenance. We have learned about pruning, intensive weeding and preserving rainforest trees on our farm.


How important is Fairtrade to your community?
The standard of living for Kuapa farmers is over a hundred per cent better than other farmers who are not Kuapa farmers. The Kuapa co-operative has used our Fairtrade Premium money to provide many things for my family and community [including] a mobile clinic. It is my wish that Kuapa will have a permanent clinic.
Environmentally, Kuapa has solved our problem of guinea worm disease in our water and now my community has drinkable water. We have also planted shade trees on our farms. Economically, Kuapa has made us a bakery and now we can make soaps, gari and batiks to supplement our income.


Tell us why you wanted to come to New Zealand?
I want to come to New Zealand to tell people how Fairtrade has improved my life and explain why my cocoa is "Pa Pa Paa" [the best of the best of the best]. I would like more people to buy Fairtrade chocolate, it will make a big difference for my community.


What do you hope for the future for yourself?
To be a good teacher and a good leading farmer. I want my children to study hard and one day I want them to inherit my farm.


Anything else you would like to add?
As a woman, I enjoy being a Fairtrade farmer for the simple reason that Fairtrade advocates for gender equality and female empowerment. In my social life I can now also stand before both the elderly and the young ones to express myself freely without fear or intimidation.


• Fairtrade Certified chocolate is available in supermarkets nationwide and includes Cadbury Dairy Milk chocolate; Whittaker's Creamy Milk and 72% Dark Ghana; and Green & Black's 85% dark, 70% dark and milk and signature Maya Gold.


- VIVA