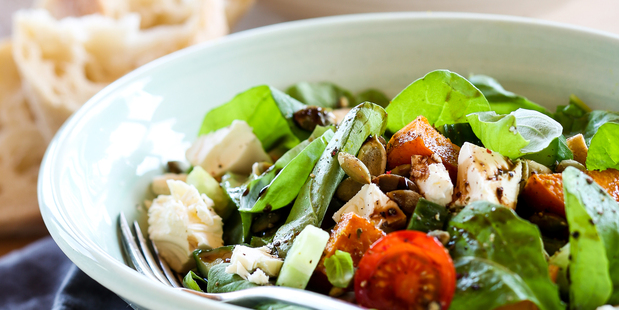 Serves 4
• 4 cups pumpkin, peeled and cubed
• 1 Tbsp oil
• ½ tsp turmeric
• ½ tsp cumin
• 10 cherry tomatoes, halved
• ½ cucumber, cut into chunks
• 2 Tbsp fresh herbs
• 40g toasted pumpkin seeds
• 200g feta, crumbled
• 2 Tbsp olive oil
• 2 Tbsp balsamic vinegar
• Salt and freshly ground pepper
• ½ cup rocket leaves per serving bowl

1. Preheat oven to 180C. In an ovenproof tray place pumpkin, oil, turmeric and cumin. Toss to combine well, then roast for 20 minutes until soft and golden. Cool.
2. In a large bowl combine pumpkin, tomatoes, cucumber, herbs, seeds and feta.
3. Gently toss though olive oil and balsamic vinegar. Season with salt and pepper.
4. Serve in individual bowls with ciabatta on the side. Place a handful of rocket in each bowl and top with the mixed salad.

- VIVA


For the good things in life on the go, download the Viva iPad app, free now at appstore.com/vivamagazinenz.