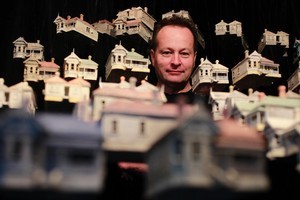 The real estate agent is Ron Jadford, a man with a whiny voice and exposed front teeth.
"This is a very desirable neighbourhood," he says, gesturing to the turn-of-the-century villas with panoramic views in a suburb called Graft.
A list of owners lends credence - arts commentator Hamish Keith, and architects Pip Cheshire, Pete Bossley, Rick Pearson and Ian Athfield, whose house sits surprisingly low on the hillside. Ron Jadford is even offering free, handmade furniture to the VIPs. You can see it if you squint through the windows.
But Graft is no ordinary suburb. It's probably the only enclave small enough to fit inside a building on Karangahape Rd. As for the agent, he's an alter ego of artist John Radford, who is developing an entire suburb, in miniature.
Phase one of Graft comprises 70 homes of the planned 250. The work in progress is open for viewing at Ironbank on K Rd until November 30.
Seeing the first completed stage is an awe-inspiring, if eerie, experience. Graft is no plastic Noddy town of the type you might expect to see in a museum.
It is what Radford calls "surreal estate", each tiny house suspended by threadbare wires, causing them to sway ever so slightly, as if built on a faultline. Some even have electricity, their interiors glowing.
Radford got the idea for Graft 2 years ago when looking out from the Karangahape Rd overbridge towards the harbour, and pondering the gaping hole through which the motorway courses. He began to wonder what used to be there and discovered that during the 1950s and 60s, 14,000 homes were demolished to make way for Spaghetti Junction.
"It's like a big horrible injury the city has suffered, a sad gaping wound. There's no sign of what was there at all. There isn't even a plaque. It seems rather bizarre to me that it's that thorough."
The before and after shots are staggering. What happened to those people?
"That's partly what haunts me. I've read a few things on the history of demolitions, and people were given a government valuation of their house and told to move out.
"Really old pensioners made homeless: 'Oh sorry, your home's gone, there's going to be a motorway, goodbye, here's $2000.' It was an epic imposition on people."
The drastic nature of the suburb's partial removal has led Radford to suspect it is partly what shaped K Rd's edginess - the overbridge area became less desirable and the red light district moved in.
But perhaps it also helped to preserve its heritage. During the 80s, building developers with little regard for aesthetics put up glass-walled, high-density housing in other parts of the city where retail was stronger.
It's not only Auckland that has suffered from severe redevelopment. A motorway extension disfigured Wellington's Cuba St quarter. In Beijing, whole suburbs were removed as part of the pre-Olympics sanitisation process.
Radford's initial vision was even bolder than Graft - he wanted to build a glass-bottomed platform and suspend it over Spaghetti Junction with former Newton resident Bob Harvey inside.
With regards to traffic safety, Graft is perhaps a more appropriate rendering of this idea. But it also fits neatly within Radford's body of work, a combination of sculptural, multimedia and performance artworks that invites viewers to contemplate the aura of old buildings and objects, the human traces of the past that are wiped away with redevelopment or cleansed from urban environments.
His fascination with this subject is shown in works including TIP on Ponsonby Rd - the glimpses of what look like heritage buildings jutting out of Western Park, The Sound of Rain, the small bronze villa on Dominion Rd featuring reminders of previous lives, and Transplastic, in which Radford explored the illusion of age by covering large urban fixtures in clay.
Other aspects of Graft are familiar too. Radford designed the layout to mimic a typical New Zealand suburb, and the street names come from a medical text about skin grafts, the connection that parts of suburbia can be transplanted into others.
The pleasant, floral-sounding Ithelia Rd was "grafted" from the word Epithelia, a part of the skin. Likewise Perpig St and Quamo Ave come from "hyperpigmentation" and "squamous" skin cells. It is a nod to the term "hard graft", and the suburb of Grafton, where much redevelopment has taken place.
It is also, says Radford, because to graft means to scam.
"I think real estate is essentially a scam. You draw a line in the ground and you're selling bits of land - what off? What line? That survey peg? Does it shift a millimetre this way or that way? There's no land in this installation. In a way that's a scam."
And yet prospective buyers have not only been forthcoming, they are buying into the irony that their miniature property will increase in value.
Nearly half Graft's houses have sold, and one has already been on-sold, netting the vendor $850, 10 per cent of which has gone to Radford.
The idea is that this virtual marketplace will continue to thrive for as long as the installation travels the country, the homes gradually increasing in value. A $2250 house that went on to the market last year at $500 plus GST suggests Graft is on a par with Grey Lynn. A lawyer has even bought a section of invisible, floating land.
While Graft is a clever way for the artist to generate income, Radford has also tapped into a childlike desire to play pretend. After The Lord of the Rings art director Joe Bleakley (who also designed the Telecom Christmas tree for Ponsonby Rd) introduced several vendors to the project, Radford bestowed upon him the title of "Lord Bleakley".
"It's like when you're a kid playing with toys and visualising yourself in the toy," says Radford. "It's interesting that's still alive in adults."
Help is on the way too for those who find it hard to picture themselves in situ.
Radford plans to install web cameras in some homes, so owners can keep an eye on their neighbourhood. Or at least have the means to prove to friends that their new house really is too small to live in.
Exhibition
What: Graft Phase One (a work in progress), by John Radford
Where and when: Ironbank, 150 Karangahape Rd, open for viewing from today until November 30, 10am-3pm (closed Sundays)
On the net: www.graft.net.nz