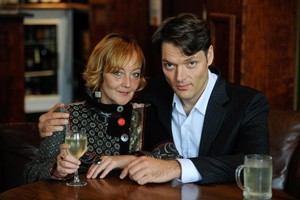 With more women than men on the singles' market in the 40-44 age bracket, what are the chances of a successful hitch? Jo Knowsley, more than 40-something, and partner Oscar Kornyei, 40, went speed dating to uncover the truth.
Mark*, balding, and apparently shy, fiddled with his tie when I asked him if he liked pets. He looked a little nervous. "I grew up on a farm," he said. "Er. Dogs seem rather too much of a responsibility. Cats? Well I've never thought about them. With ladies? I never married because I've just never met the right woman."
It was not a promising start. But what should I have expected on a speed dating night in Auckland. Twelve women. Eleven men. All over 40. All looking for something.
New research has shown single men in their 40s and beyond have an inflated idea of their attractiveness - because in that age group they are a relative rarity on the singles' scene.
Balding, paunchy men look in the mirror and, we're told, see a sex god because they are apparently being mobbed by women of the same age desperate for a mate.
At the same time it appears that women are fussier than men. Research in the UK shows the average divorce age is 44 for men and 41 for women. But while men want new relationships as soon as possible, women are more canny.
Men of this age are not the commitment phobes of younger males. They want home-cooked meals (which they may be happy to prepare) and to stay at home. They want to fish on the weekends and they like the idea of suppliant women who will fit in, but also have their own lives.
Women in their 40s and 50s, free of husbands and dependent children, on the other hand, want to "cut loose and have fun". So how to bridge the divide?
Jump to a Thursday night at a bar in Auckland. Oscar, 40, my partner, and I - well over 40 - have signed up for a $40-a-night speed dating event.
So what did we discover? Would Oscar be mobbed? And would I, up against younger female competition, be left horribly on the shelf?
Dee, the organiser, says she's been running speed dating events for seven years and that people have "a great time".
"Though we did find an anti-diarrhoea tablet under a chair one night and another time a lady fled with a panic attack," she says. "But we tell people to keep an open mind and not come along with expectations. The idea is to meet nice people and have fun."
However, for first-timers, even with a prepared list of questions, it can seem a little daunting. But five minutes - for most meetings - goes pretty fast.
I meet a credit controller who loves rugby league, a builder-restorer with an interest in French films, a British football fan who speaks Spanish and likes Salvador Dali, a 60-something (guessing) man who tells me he'd spend a perfect Sunday fishing, an Irish workaholic, a multi-pierced man who tells me he has no family "alive in NZ", a divorced fellow who'd rather be "crabbing in West Australia if it weren't for my elderly parents", a cheerful tour driver who would like to live in the UK, an older man who assures me I'd not get sick on his speed boat (as compared to a ferry), and one man - the only one - who says he loves animals and starts to talk about a rare breed of cat before the bell rings and we have to swap partners. I think I might call him back.
The men were relaxed, very, very nice, and if not all my type, were mostly people with whom I'd enjoy a coffee or a glass of wine. I hope they do want to see me again. I ticked "yes" to seeing eight of the 11 in the future - but by then I had three glasses of wine. And all the guidance on these things says "don't drink too much and don't show cleavage".
The women, however, were a different matter. One woman I met before the event ordered, very specifically, a rum and Coke - with only two ice cubes and Diet Coke: "I don't want my glass full of ice."
And therein apparently lies the problem. Women, it appears, are not only short of suitable mates, but are also fussy.
Oscar reported that his ladies were, in the main, lovely. He would happily have drinks with at least two of them.
But they appeared to be less interested in what he did and who he was. They were mainly beautifully turned out - with the exception of one drunk "youngster" (40-something) who told him how to pronounce Hungary (he hails from there) and said her favourite country "in the world" was Louisiana.
And where "my men" appeared to be interested in what I had to say, he claimed some of his ladies were "not interested in what I did, my interests, or who I was". He said: "It felt as if some of them were too busy with their hobbies and girlfriends to fit a man into their lives."
And where the men had shown a strong interest in sport, and fishing, the women - with the exception of one who flew her own plane, and another who promised to get on the back of his motorbike if she could wear fishnet stockings and red high-heeled shoes - were very, very interested in cats.
They cited major turn-offs in men as poor hygiene, and a slovenly appearance. They liked running, golf, and the great outdoors. But then, these were subjects that also interested the men.
So why were so many men keen to see me again (my interests are theatre, galleries, shopping and walks) and less keen on the women whose interests so obviously matched their own?
The women were beautifully presented. The men were relaxed and sweet. But the secret, it appears, for women, has not changed over the centuries. Listen, let men talk about themselves, and, indicate that, well, you can "fit in". Or, as Dee told me later in the night, adopt guidance a long-married friend gave her: "As long as men have their bellies full and their testicles are empty, you'll keep them for life."
And the result of our speed dating? The next night I discovered six of the 11 men I met expressed interest in seeing me again, via the Speed dating organiser. But only three of Oscar's women put a tick in for him. That puts paid to that bit of research.
* Not his real name