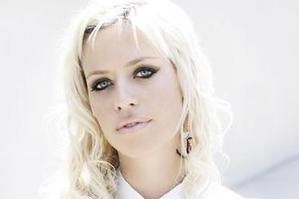 Gin Wigmore
Singer
"My best mate wasn't allowed boys around to her place in our teens, so when my mum went out for the night I told my pal she could bring her boy around to my house to get their pash on. The only problem was, he wanted to bring his friend whom we had never met. I was so worried that I would have to hang out entertaining some lame-o guy. We eventually heard their car pull up the drive and sprinted down the stairs to scope him out - and our jaws just dropped. Out got this super-hot sexy surfer guy whom I ended up falling completely in love with and went out with for three years."
Kate Rodger
TV3 entertainment reporter
"Rather predictably, my first grown-up Big Love with a real person (i.e. not with Han Solo, or Ponch from CHiPs) involved bonding over a film. We met through mutual friends and were all sitting around nattering over a bottle of vino. After just a few minutes, he and I had one of those cheesy 'nobody else in the room' moments when he randomly blurted something about seeing the new Gus Van Sant film My Own Private Idaho the night before (which gives you an idea of how long ago this was!).
I'd been entranced by exactly the same film, and we launched into a very intense conversation while the rest of those gathered sat looking bored and somewhat bewildered until we finished. I guess I have a narcoleptic River Phoenix to thank for introducing me to Twoo Lurve."
Bonnie Soper
former Shortland Street star, currently appearing in The West Auckland Cardigan Society at the Maidment Theatre until February 27
"I met my first love when I was underage dancing and playing pool in a bar called, God forbid, the Sugar Shack. For some reason he was wearing a highlighter-coloured foam hat and he had the cheekiest grin I had ever seen. I very clearly thought 'this boy is trouble, stay away from him Bonnie' - but of course I didn't and of course he was. I ended up dating him for the next year and a half. On one Valentine's Day, he sent a dozen red roses but it turned out his mum did it for him!"
Colin Mathura-Jeffree
hosts NZ's Hottest Home Baker on TV3
"It's 1996. I'm a fashion model in Mumbai, India. It's the epicentre of cool in Asia. I am told the place to hang is this cafe everyone who is anyone is at. I saunter in looking like an extra from a Disney western. As I take my seat, I catch a look from 15 feet away. It's so intense I look away fast but can't smother my smile. I eat and leave, to shy to look back. I return a day later at the same time, I quickly sit down and order. As my drink arrives I turn fast and like lightning those eyes shoot me a glare that says 'you're back, too'. I giggle to myself as I whip around to chat to my friends and never turn back. I have my pride. You can want me. Two days later I'm drawn into a web of seduction. I can't get those eyes out of my mind. I'm haunted. I'm falling shamelessly into a crush. I'm back sitting as always same place, same time. I'm so nervous and excited and bold and scared. I'm pathetic. I gulp my drink and smile at people looking at me ... determined and filled with a new strength as I sense the shape of my new love through a quick head turn. I thrust myself up out of my chair. It's now or nothing. I adjust myself pre-pout-ready for a photo look, lift my head and stare in the direction of my affection and gasp ... 15 feet away is the wall mirror!"
Shannon Ryan
presents The Official NZ Top 40 on C4
"My first crush at primary school was terrible. I told 'the boy' via a letter delivered by my friend, and then his friend came and growled at me! They were so outraged. I've forgotten his name but the crush was really only on his awesome Ninja Turtle schoolbag. I met my current boyfriend Dan when he was visiting from Australia. We went to the top of Mt Eden for our first date of fish'n'chips and drew silly chalk pictures and when he came back we planned our first kiss which, in true movie-style, was at the arrivals gate at Auckland Airport (in slow motion)."
Sarah Bradley
co-host of TV One's Good Morning
"My first love was when I was in Form 7. His name was Paul, and he was in Form 6. We met because I sang in the school choir with his sister and I used to hang out at their house. He was tall and blond and good at accounting. We went out for the school year but then I went to university and the distance between Hamilton and Auckland just seemed too far and we grew apart. I still see him and his family from time to time. I am lucky because I had a nice first romance."
Erin Simpson
presenter of The Erin Simpson Show, returning to TV2 later this year
"At school we were gearing up for our swimming sports day, and I happened to overhear the boy I liked say that he didn't like girls with hairy legs. Not being one for grooming, I still hadn't shaved my legs at that stage and, glancing down, they looked worse than Mark Sainsbury's moustache. But all that was about to change, and the next day I turned up to school with a solution. I took a deep breath and rocked straight over to Ashley and suggested to him that because I had shaved my legs for the first time (revealing the pasty white colour of my ancestors), we could now be together forever! As he took a moment to figure out who I was, and why on earth I had chosen to say this in front of the whole school moments before his senior swimming race, I suddenly had an out-of-body experience and realised what I had done. As you may have guessed, Ashley and I have not spent the rest of our lives together."
Michelle Pickles
sports reporter and 3 News presenter
"I was living in London with a bunch of Kiwis and the phone went at four in the morning. I heard someone answer it and say "sorry, wrong number". When it rang again, I wasn't quite so polite. After a few choice words, I told the caller where to go and to never phone again. Not long after that my flatmate told me "the caller" had been a friend of his from New Zealand who had been trying to reach another friend of theirs, but had called us by mistake. Apparently this guy had said I was a right you-know-what, and he hoped he never had to meet me. His name was Trevor Swan and three years later we did meet. We've now been together for 14 years, and happily married for seven. Just goes to show - sometimes first impressions aren't always what they seem!"