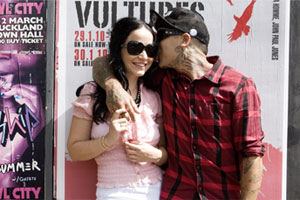 Three pairs of hip and funky couples tell Viva what keeps their love alive.
Haimona Ngata, creative producer, TVNZ
Amanda Wilson, associate director of marketing and communications, MediaWorks TV
What made you fall in love?
He says: Her confidence; in the way she carried herself, in the way she handled herself with her job that she is so passionate about, and in being sure of herself and the decisions she makes in everyday life. She is breathtakingly beautiful beyond what words can describe. I, of course, was too shy to tell her that when we met.
She says: Our first dinner date was when I realised he was such a gentleman. He put me at ease, made me laugh, was friendly to the waitress, and paid! To top it off, we knew all the lyrics to the same 90s hip-hop tunes, which sealed the deal.
What are the key reasons your relationship works?
He says: Because we are very different but come together equally. She is sophisticated and elegant, and likes fine Crown Lynn china and vintage couches, and I'm a bit rough around the edges and enjoy everything about the hit 80s sitcom Alf and collecting toy robots. It's all about compromise and finding what works for you. That and movies on the couch on a rainy Sunday night while sipping on a green tea!
Describe your most romantic moment:
He says: When our nugget of joy, Harmony Brooke, arrived. It's hard to describe the amount of emotion you feel when you've been through this nine-month journey together only to have it all come to a point in a hospital delivery suite and your lives change in an instant when you hear the first cry. You're sitting in your room afterwards and it's complete and utter unconditional love together, with this new addition to your whanau.
Delaney Tabron - Editor, NO Magazine
Matt Offord - Music Promotions, Isaac Promotions
How did you meet?
He says: In a seedy bar. We had an hour-long conversation in one of the booths. Let's just say a few too many drinks led to a bad case of fuzzy memory syndrome and I ended up re-introducing myself a few hours later, opening with the line "hi there, I've been meaning to introduce myself" ... Smooth!
She says: He was drunk and apparently I was very memorable ...
What made you fall in love?
He says: They say that the way to a man's heart is through his stomach, and I am no exception. She feeds me a lot and I like it. I love how genuine and passionate she is about her friends and family. She really wears her heart on her sleeve and that's a really admirable quality in a person. She's very tolerant of my often-boyish behaviour and she always smells great!
She says: He constantly takes the piss out of me. He makes me laugh until I cry. He sings Sinatra in the shower. I never get bored because he makes ordinary moments interesting. There are reasons too vast to list here and if I do, his head will get so gigantic I'll have to start shifting the furniture to make room for it.
Describe your most romantic moment:
She says: Matt is the most unromantic person I have ever met. But ... he makes my breakfast every day and I'd rather he loves me in his own way than subscribe to predictable, beige notions of love.
Luke Harwood - Creative Director, Stolen Girlfriends Club
Gabrielle Mirkin - Graphic designer
How did you meet?
She says: At a party about five years ago.
He says: At the Big Chill.
What made you fall in love?
She says: Everything.
What makes your relationship work?
She says: We share the same values and always seem to be on the same wavelength ... but we are both independent individuals who have quite different personalities that complement each other.
He says: Just being unselfish and compromising for each other, to work as one and to help accomplish all the things we want to do in life, both individually and together. To do that you have to consider all the little day-to-day mundane things too.
Describe your most romantic moment.
She says: Reuniting in New York at JFK airport, after being apart for three months. That was a pretty cool feeling.
He says: Asides from international trips and experiences, sometimes the most romantic things are simple things where you feel totally complete with each other.
Anything else you'd like to add?
She says: La Perla underwear is a pretty good Valentine's present for your girlfriend.
He says: Valentine's Day's for suckers. Make your own Valentine's Day any day of the year.