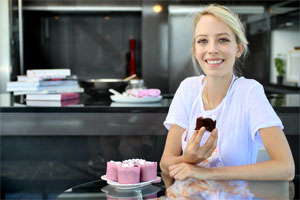 Two dozen roses and dinner at a fancy restaurant? Boring! Do something outside the typical this Valentine's Day, whether it be simple but sweet or more extravagant (Champagne bath anyone?). Here are some ideas to inspire displays of affection.
1. Flower bomb
A beautiful bunch of red roses is incredibly romantic, but a week later they'll be dead. Brown, dried-out roses equals "not romantic at all". Craft artist Erin Dunn has the solution: cute, soft flower bouquets that last forever and never need watering. Dunn, who creates many a crafty thing under the label Ferrit (check out her stuff at ferritferrit.blogspot.com), was inspired by the roses in her own garden.
"We have some lovely roses in our garden and one day I was admiring them, so decided to take some drawings. I like the idea of a handmade gift and thought it would be nice to receive a bunch of handmade roses, just for something a little different.
I'm a bit of a romantic at heart and I guess I just make things I would like to be given myself," explains the AUT student.
The hand-drawn, screen-printed bouquets are on display in the window of vintage textile store Salvage, and sell for $70 for a bunch of six. Perfect for girlfriends with a quirky sense of humour. And take the crafty twist on traditional Valentine's Day gifts further with Nao Mayer's cute little felt chocolate gift magnets and gift box ($15 for three, contact naokiuchi@hotmail.com).
Salvage, 537 Mt Eden Road, Auckland, ph (09) 630 4054.
2. Get Frenchy
The French know how to do romance, so why not channel your inner francophile on Sunday. Visit the La Cigale French markets in Parnell, have a crossaint and cafe au lait, buy some fresh food and produce then go home and cook your lover a divine French lunch before heading to a romantic French film.
The French Film Festival opens in Auckland today, with plenty of romantic movies on offer - on Valentine's Day there are five playing at the Rialto theatre throughout the day, including Anything For Her. Starring Diane Kruger as Lisa, the film follows her husband Julien as he risks everything to help his beloved escape from her 20-year prison sentence. A much more gripping romantic film than your usual light-hearted Hollywood fare. Or you could just go and see Valentine's Day, a rom-com that stars almost every actor in Hollywood.
3. Sweets for my sweet, sugar for my honey
Making something especially for your lover will get you plenty of Brownie points on Sunday. So what should you make? A scrapbook of photos and memories? A bookshelf to hang on her wall? A short film showcasing how much you love him/her? No, no and well, maybe. Making a nice cake could work also. Or, if you are baking-impaired or far too busy and important to spend time in the kitchen, get someone else to do it for you.
Jordan Rondel recently launched The Caker, a baking "cake of the week" service that offers to do the hard work for you (and deliver it too). Each week she bakes a different cake from a unique recipe, whether that be a Berry Bliss cake (blueberry and orange), the Summer cake (stone fruit and almond) or the Bevan cake (chocolate, hazelnut and banana).
She bakes delicious heart-shaped Belgian biscuits too, perfect for your beloved.
"A baked gift implies time, thought and effort," explains Rondel. "Something handmade and homebaked makes the perfect Valentine's Day gift - it is romantic and sweet, and gives instant pleasure to the recipient."
Rondel's cakes and sweet treats are 100 per cent handmade with organic eggs, milk, nuts, fruit and chocolate, and come in a beautifully packaged cake box.
"I often make gluten-free and dairy-free cakes and use only the highest quality ingredients. They look a little rustic because they aren't machine-made but taste wholesome and scrumptious. I have a repertoire full of interesting recipes to make cakes that you can't buy from an average cake shop, such as pear, vanilla and almond or coconut and mint cakes," says Rondel, who charges $35 per cake and $30 for 10 biscuits. Or subscribe to her weekly cake service, where a different flavoured cake will be delivered to your beloved's doorstep each week. It's a Valentine's Day gift that keeps on giving.
To order, email jordan.rondel@gmail.com, or visit thecaker.co.nz for more information.
4. Love me long time
The gift itself may get most of the attention, but don't forget what comes before that: the card. Because you may have the perfect gift, but you also need the perfect note that sends the right message - and grabbing a card with a picture of two dogs kissing on the front of it just won't do. A print based around the idea of undying love and inspired by myths, folklore and ancient love stories will.
Pigeon Post's Valentine's Day range of postcards features sweet illustrations of ancient lovers from around the world, including Pygmalion & Galatea (Greek), Hinemoa & Tutanekai (Maori), The Butterfly Lovers (Chinese) and Radha & Krishna (Hindu).
"A card should be more than just an 'add-on' item to your gift or just a canvas for your love words - the choice of card should be a manifestation of your feelings," explains Judi Chan, who launched Pigeon Post with partner Keith-yin Sun. Both work on the distinctive illustrations, bouncing sketches back and forth until the final product is finished and printed on thick textured paper harvested in an environmentally and socially friendly manner.
The pair launched the label last year as an ode to their love of fine art, vintage design, antiques and the art of traditional forms of communication.
"Yes, no SMS!" says Chan. "The concept behind the label is to celebrate the history of post; the name was inspired by one of the earliest forms of communication - the use of pigeons to send messages.
Communication nowadays is generally through email or by sending greetings with e-cards, but we find this lacking that personal touch compared to a hand-written greeting card or letter.
A piece of mail itself, just like any antique object, is filled with memory and history that you can read and enjoy many years later. It's something special that you will want to keep in your drawer."
So make sure you're giving something special that your partner will want to keep forever - something that represents your own undying love.
Pigeon Post cards, $6 each, from Children of Vision, ph (09) 379 8930.
5. Love songs 'til midnight
You could embarrass her on Sunday by ringing up your favourite radio station and requesting "your" song, or you could make her own special mix-tape of songs that mean something special to both of you. The song that was playing when you first met. The song that was on in the background when you first kissed. The song whose lyrics perfectly portray how you feel. A song you both love. Or you could make this one that we pulled together for you - we call it "New Zealand Fashion Designers' Favourite Love Songs":
1. Not Given Lightly by Chris Knox - Kate Sylvester
2. I'm Straight by Jonathon Richman - Karen Walker
3. Sea of Love by Paul Phillips - Cybele Wiren
4. You've Got The Love by Florence + The Machine - Marc Moore, Stolen Girlfriends Club
5. Two Hearts by Chris Isaak - Sherilyn Catchpole, State of Grace
6. Never Tear Us Apart by Inxs - Deanna Didovich, Ruby
7. God Gave Me You by Bryan White - Sera Lilly
8. Islands in the Stream by Kenny Rogers and Dolly Parton - Kathryn Wilson
9. I'll Be Your Mirror by The Velvet Underground and Nico - Liz Mitchell
10. Umi Says by Mos Def - Anjali Stewart, Twenty-seven Names
Please note: this gift must be given in conjunction with flowers or diamonds or a trip to Paris. It may be the thought that counts, but you don't want her thinking that you're cheap.
6. A date in the city
A romantic weekend away would be a lovely valentine, but if you a) can't afford it or b) don't have time, a date in the city will work too. Taking her to a museum could be a dumpable offence, but the current Magic of the Rose exhibition at the Auckland Museum is suitable for partners with a whimsical or literary bent. (And they are offering a two-for-one deal on Sunday). The rose is synonymous with love and passion, and the art pathway of the exhibition explores this (the other pathway, science, isn't so romantic).
Rachael Davies, exhibitions developer at the Museum, says roses have been symbolic in mythology and literature.
"Many cultures have used the rose to express love and essentially people seemed to have picked up on how the physical appearance and properties of roses lend themselves to the metaphor of love - from their range of colours (translated by us to express a variety of emotions), their secret layers of soft petals, their heady but subtle fragrances, the later associations of the colour red with the heart - from where love springs. There is a constant comparison of the female form to roses over time with the most well-known example being Aphrodite or Venus, the Goddess of Love. The rose is her symbol - when she was born from the ocean, white roses washed ashore."
Boost the romance factor of your date by surprising her with a picnic (rose petals strewn on the picnic blanket are optional) in the Domain afterwards, where live jazz will fill the air at the Band Rotunda from 2pm until 5pm. Local jazz band LippizanEars will perform, and French Toast will perform some well-loved French chansons.
7. More than words
Can't find the words to tell your partner how much you love them? Immortalise your feelings with a piece of art by Elliot Collins instead. The emerging Auckland-based artist often makes use of poetic and simple phrases in his paintings, related to love, life and beyond.
"I use words to make paintings that often tell you what the painting is about, much in the same way a child can tell you about their drawing which, to you, looks like a scribble," explains the 26-year-old.
"The written word is beautiful and I always treat it as a privilege to use. I find myself getting more and more particular and sensitive to overusing words. I hate wasted words. I'm an artist who writes, not the other way around, and I think that's the difference and what makes it art."
Collins graduated from AUT with a Masters degree in painting in 2007, and has several solo and group shows under his belt; with gallerist Tim Melville saying he paints like a dream.
"Elliot's artworks seem loaded with hope and humanity and possibility in a world that's often preoccupied with irony and cynicism," explains Melville.
"In artworks like these you get a real sense of the artist making himself vulnerable. They're brave, but they're also beautifully considered and thought-provoking. There's a quality of romantic melancholy and knowing innocence that slams you right in the heart - it's a flash of recognition - and I love seeing people's faces change when they come in to the gallery."
Selected pieces of Collins' work are currently on display at Tim Melville Gallery, as part of the group exhibition Sunblock.
Tim Melville Gallery, 2 Kitchener Street, Auckland, ph (09) 302 4110.
8. Make like Johnny
They may have broken up more than 10 years ago, but Johnny Depp and Kate Moss will forever be remembered as one of the coolest couples of the 90s or, well, ever. Their rocky relationship is legendary, from trashed hotel rooms to surprise birthday parties at the Viper Room to romantic Champagne baths at the Portobello Hotel. (According to Depp that didn't actually happen, but it's still a great rumour).
East Day Spa is referencing the story with a very special Valentine's offer, the Moet Duet. The luxurious treatment for couples starts with a relaxing Shanti massage with ylang-ylang oil in a candlelit private room, followed by a warm Champagne bath filled with four bottles of Moet et Chandon Rose and hibiscus flowers, with a bottle of Champagne to drink and a platter of Godiva chocolates on the side.
It may sound extravagant, but what better time than Valentine's Day to splash out? It's the perfect time to experience the feeling of being blissfully relaxed and alone with your loved one, says spa owner Ina Bajaj. And if it's good enough for Kate Moss, then surely it's good enough for your beloved.
East Day Spa Moet Duet, $1000 for two, ph (09) 3637050.