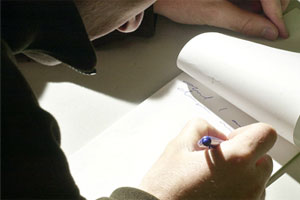 Why do so few men write love letters? According to a new survey, 78 per cent of women would love to receive a romantic letter or poem. But only half of men have ever penned one. Valentine's Day is doomed to disappoint.
As women we splurge out our emotions. Desperate to be understood, our letters are littered with sub-clauses, breathless explanations and lots of brackets. It's like an epistolary novel.
Whereas the minute men commit pen to paper, they come over all Victorian. "Regards", "soonest", "cheers".
Would it kill them to display a little bit more warmth?
For psychoanalyst Darian Leader, the fact that men keep love letters in their correspondence files and women keep theirs among their underwear is telling.
Letters are physical, sensual entities for women. For men they're proof (of love, affection, trust). But they might also get you sued - so better keep them locked up.
Recently I sent an email. We were on to date No.5. I composed it with care - no woman the wrong side of 35 wants to look desperate - slapped on the sign-off "Liz x", and pressed send.
His reply came back short to the point of brutality: "Great. Best, Dave". Very pointedly, there was no kiss.
"Oh God," I thought. Surely he doesn't think I actually love him. Surely he understands that a screen "x" is just a symbol: part affectionate gesture, part social lubricant?
Why do so many heterosexual men refuse to emote on paper? A repressive education? Nerves? Sheer terror that we might want to marry them?
I can't be the only one who is defeated by man-phrases such as "your own good self", "it is what it is", and my own favourite, "I'm sorry you feel the way you do, but I feel otherwise". What on earth do they mean?
I spent weeks puzzling over one email after a rather harrowing evening with an ex-lover. We both clearly left the restaurant in distress.
My heart skipped a beat when I saw he had sent a message next day. Only to open it and read: "Thanks for effortless PM. Central line mad but same all day."
Was it code? A come-on? A rebuff? Maybe men really do measure out their emotions in phrases about public transport.
Whatever the evening was, it wasn't effortless.
"No woman would ever write that line," my friend Marion insists.
"We're not effortless, we're a handful. We're sad and screwed up and we cry on buses."
Hmm, well maybe that's what men are worried about. Communicate too intensely and you risk getting flooded. Much safer to keep relationships D rather than 3D.
Maybe - just maybe - we could learn from their restraint.
When I first got my iPhone I was so inept at texting that I stuck to short phrases: "Yes", "No", "Whatever".
It had an amazing effect on men. Even the slackers pinged back enthusiastic responses.
Leader has a theory: the reason women write far more letters than they post is we're actually writing to ourselves. What we need is a diary - not a romance.
No wonder Twitter - where all the important things in life can be boiled down to 140 characters - has been such a success with men.
- INDEPENDENT