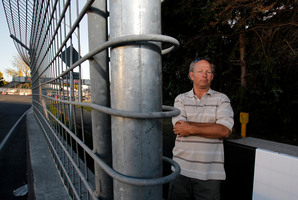 V8 Supercars Australia has said a Hamilton family's claim for $50,000 in damages is "opportunistic and baseless" and has dismissed suggestions they can stop this year's Hamilton 400.
But Mill St residents Paul Smart and Odette Haitana, who live beside the temporary track, are undeterred and say they have been getting lots of toots in support from drivers as they ramp up their plans to get a court injunction on the event.
In the Herald yesterday Mr Smart and Ms Haitana described the "hell" of living inside the track boundary with their two teenage children during last year's event and said they would not go through it again.
Fences and barriers are put up around their house and they are given access to a padlocked gate at the corner of their road. They can also park their vehicles across the road from their house after the race finishes each day.
But the stoush between the big corporate and the small guy continued yesterday as V8 Supercars Australia said it would not back down.
V8 Supercars Australia said it did not have to honour a compensation deal - where the previous promoter paid for travel and accommodation for the five days leading up to and during each race - because it was not with them.
"After not hearing from the Smart-Haitana family since the 2011 race event, less than two weeks ago we received their opportunistic and baseless claim seeking 'general damages' 'in excess of $50,000'," the company said.
Its statement said the Smart-Haitana family could "freely and safely access their property in the lead-up to and during the event" and pedestrian and vehicle access had been organised for them.
All affected parties - residents and businesses close to the track - were treated the same, it said, and V8 Supercars Australia followed the rules of the resource consent. All affected parties received six three-day race passes as compensation.
V8 Supercars Australia also appeared unfazed by legal threats and pointed out the courts had rejected a "similar claim" the couple took against the Hamilton City Council last year.
But their lawyer, Kate Hay, said last year's claim heard by the Disputes Tribunal was completely different from the family lodging an injunction at the High Court at Hamilton to "remedy a nuisance". She was yesterday finalising the documents before lodging them in the next few days. Ms Hay said that in legal terms a family had up to six years to claim for general damages. V8 Supercars Australia's claims that the family had not been in contact since the last race were "irrelevant".
She said the $50,000 claim was a "round figure".
Meanwhile, Mr Smart said he had been overwhelmed by support. Motorists had been tooting their horns as they drove past his house all yesterday and he had also got a thumbs-up sign through a car window and been yelled a "Yeah bro!" from another motorist.
He said he did not want to stop the race but was being given no other choice since V8 Supercars Australia refused to negotiate with him. "It's deafeningly quiet from the V8 people."