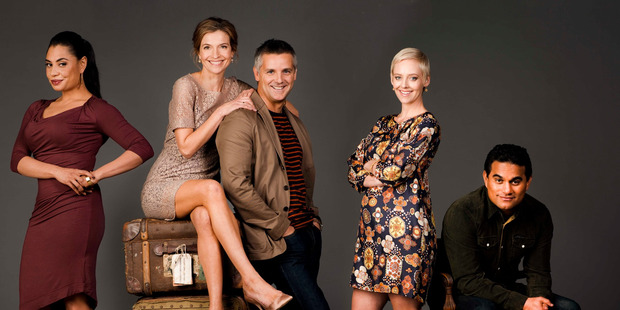 The opening scene summary for Nothing Trivial season three goes something like this.
Mac and Catherine are happiness personified in their relationship, even if Celeste isn't so approving; Michelle is enjoying the physical rewards of her new mystery man; Brian's fixing up a motorbike in his lounge, trying to fill the gap Emma has left; and Emma has moved in with fellow teacher Nikki, become head of Year 3 and 4, enrolled for an MA, and cut her hair. Yep, being pregnant and single has sent her into a spin of productivity. The big debate is whether Brian or Emma will be playing for Sex On A Stick when they go to a charity pub quiz in Hamilton - they have shared custody of the team.
Ah yes, the life of average 30 and 40-somethings somehow doesn't read as being all that entertaining on paper, but its familiarity and reality is actually what makes Nothing Trivial such an endearing show. After three seasons I'd half expected to become rather bored with the quintet of trivia aficionados, but it turns out I quite enjoy the company of these Aucklanders and their challenges with family, friends, work, and lovers.
The writers have shown admirable restraint with the drama - there have been no murders or explosions, no gangs, criminal schemes, fires, incest ... and mostly, the relationship issues and heavy events are given a realistic amount of time to unfold and simmer. And the strong acting makes it all the more watchable.
Episode one started with a good old montage, and then we had to suffer a little bit of childish bickering over quiz night between Brian and Emma, but it wasn't long before we were back into the swing of things with Mac's long-suffering work partner, Smudge, teasing Brian with lines such as, "They don't let you on to the isle of lesbos with long hair."
There's a remarkable amount of schadenfreude in seeing Adam leave Jo (for his own annoyingly perfect ex, who works for Oxfam). It's about time she was dealt some rough cards. And Katherine Kennard does such a wonderful job of playing the manipulative, wicked ex-wife, it's rather fun to watch. You could see the cogs turning in her head from miles out, watching her think about how she might get Mac back, long before she made her pot-fuelled declaration in the living room.
Good thing Mac's not having a bar of it. Yet. Though you can tell Jo's going to play the long game.
And good thing Brian's finally woken up and realised he wants Emma back - and not just because a Hamilton knucklehead gave him concussion. Question is, what can he do to make things right?
I'm a little concerned about Michelle's fling with her married therapist - you can see that's not going to pan out nicely. But I'm more concerned that the team should never have to revisit Hamilton, or bring up those cliched Hamilton jokes again. As long as they steer clear of Tron punchlines, I'm happy to give Sex On A Stick another round.
Follow @nzherald_ent on Twitter for all the latest entertainment news.
- TimeOut