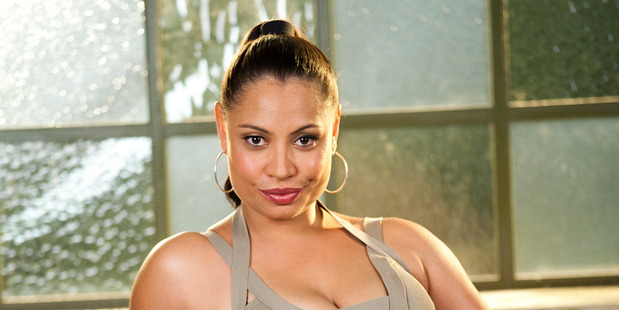 Hi, Michelle here, from Nothing Trivial (Sundays, TV One, 8.30pm). Okay, it's not really, and if you have a problem with me reviewing my own television show, you can go shove it.
Because Sex on a Stick is back, baby, and it's like we never left. We're still the most normal people on the box, which is why you love us. We're funny, without really trying.
And we're finally living up to our quiz team name. Emma and Brian are going at it like rabbits, even though I don't know what she sees in him. Mac had a one-night-stand, which of course got under Jo's nose and made Catherine jealous (you know that because of Tandi Wright's excellent "I'm okay with it" face).
Catherine and Jules christened their gorgeous new Muriwai pad, which isn't so gorgeous when there's a band rehearsing there half the time. Me and ... oh don't worry about me. Worry about Emma.
If Brian does anything to hurt her, I'm going to knee him in the groin.
I know, I did that last season. It obviously didn't do any damage because Courtney's pregnant. The thing that gets me is that Brian has never actually had a proper relationship. At 43! That's not normal but then, this is TV and I still wear bandage dresses to the pub. Sue me.
Anyway, Emma was so excited about showing Brian off to her parents - and I know he's trying but he's still daydreaming about his bachelor days. Then, poor Ems, her mum died. It's probably going to force her and Brian together this season and really test their relationship. Maybe her dad will move in with them? It's never easy when family members move in, believe me.
My righteous sister Rosanna and her annoying kids slept on my couch because I was just trying to be a good person and help her when the going got tough. Her bastard husband Sonny came round and tried to justify why he smacked her in the eye.
Those scratches all over his torso? I've done similar damage - consensual of course - but that was going too far. But it was an interesting way to treat domestic violence. The beauty of our show is that nothing is clear cut. No one's the good guy or the bad guy. Except that God-awful Jo. Those passive-aggressive war tactics she had over Mac last season? So not going to work anymore.
Speaking of the good guys who might not actually be that good, that whole Father Jacob thing felt a bit out of character for me last season but now it's starting to make sense. First Rosanna chucks flour all over me, in my own home. Then she steals him. Bitch. I'm still undecided on whether my higher calling is to live a life of purity or just to swot harder for quiz night.
Sex on a Stick is the one thing that never changes, thank God (sorry God). Largely thanks to Catherine and her amazing memory for facts. She thinks I don't know she's still got the hots for Mac, or that Mac's son might turn out to bat for the other team.
Parenting issues, huh? Catherine's out in Muriwai now, and Jules is playing the cool dad card, which of course is making things difficult with her teen, Celeste. And I suddenly live in a house that no longer looks like the one I owned out in Te Atatu. I'm a bit confused by it all.
The amazing thing is that our lives aren't soapy, even with all the relationship drama. Except - isn't Adam on Shortland Street?