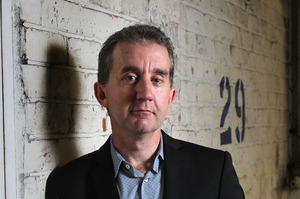 After having watched Nigel Latta's The Politically Incorrect Guide to Grown-Ups (Sundays, TV One, 7pm) which was supposed to shed some light on why "even really smart people choose to believe in wild and outlandish stuff without a shred of evidence", I'm even more confused than I was before I watched the thing.
I don't, for one thing, have a clue what was politically incorrect about it. Are jokes about aliens and anal probes politically incorrect? Perhaps if you are an alien MP.
Also, I thought Latta was a psychologist. He appears to now be a stand-up comic.
I wonder what the aliens and ghosts - the existence or otherwise which cannot be conclusively proved or disproved - would have made of this very odd outing, much of which involved Latta standing on a stage in some soulless (and presumably ghostless) auditorium packed with people who had given up a good night at home with the ouija board to watch him giggle at his own jokes.
If I was an alien, I'd have turned around and gone home, shaking my three green heads at what passes for enlightenment, and, or, entertainment, on Planet Earth.
And why bother, really? Ghosts don't exist. Aliens? See above - they're not interested; the telly's very strange indeed.
Even Latta seemed to agree that the entire concept was as much of a waste of time as his jaunt with paranormal investigators - which proved only that some people don't have enough to do. He said: "Like, if any of the weird stuff that you believe in isn't really hurting anyone else, it doesn't bother me." But he thought, like, "okay, this belief thing ... lots of people are into it. Let's go out there and let's find someone who's trying to sort of pursue the thing that they believe in. So we Googled, you know, ghosts ..."
The Googled ghost investigators went, with Latta, to a hotel in Riccarton where some poor chap was murdered in 1933 and is still said to haunt "the back passages".
There was a joke there to be made about anal probes, but Latta didn't make it. Too politically incorrect perhaps?
I was more interested in why somebody had decided it would be a cute idea to have mock-ups of Old Masters' paintings in which the mouths moved to answer questions such as: Do you believe in aliens? One mouth moved to say that, no, they didn't but that they liked E.T. That was ... illuminating. What about ghosts? Believe in them? Some of those mouths had had unexplained experiences such as a Barbie doll which moved, in the night and then the kettle switched on . Spooky, or what?
Not as spooky as teenagers, or at least the teenagers I watched in the World's Strictest Parents, NZ (TV One, Thursdays, 8.30pm). I don't have any more of a clue as to why this show exists than I have an opinion about whether aliens exist. On balance, I think I'd rather meet an alien, which would amount to the same thing.
I have no idea why these rotten kids have to be sent to some hick town on the other side of the world to be taught to make their beds and clean the loo.
You'd think we had plenty of hick towns of our own and if any parent wants to send their rotten kid around to my place, I've got plenty of little chores for them to do.
-TimeOut