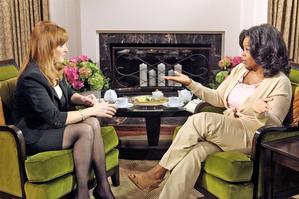 What a nice birthday present for the Queen: a screening of Fergie's Oprah interview on Queen's Birthday Monday. If I was the Queen, I'd have said "off with her head" about Fergie long ago, but the in-need-of-a-hug ginga (she got a lovely, sympathetic squeeze from America's Queen, Oprah) was not in her "right place" when she, possibly p***ed as a newt, attempted to sell access to her former husband, Prince Andy, to the News of the World's Fake Sheik for £500,000 ($1.1 million).
You couldn't make a story like that up. You certainly shouldn't attempt to explain it, beyond "I was p***ed as a newt", which didn't stop Fergie the Fantasist trying.
Oprah made her watch the video of the sting - with the obligatory shots of Fergie watching herself as we watched her watching herself. Anyone else would have curled up and died - which is what you imagine the royals wish she'd do - but Fergie said of herself, "actually, I feel really sorry for her," and "bless her".
In Diana's famous tell-all interview with Martin Bashir, she famously said, about her husband and his bit on the side, Camilla, "there were three of us in this marriage, so it was a bit crowded". It seems there were three people in Fergie's marriage: Andy, Sarah and that other Sarah - the one that the sane, good, sober Sarah feels sorry for.
As a public relations stunt, the Oprah interview was a flop. As an interview, it was therapy. It started going downhill from that welcoming hug and wasn't helped that Oprah was attempting to interview somebody who refers to themselves in the third person, which does rather tend to lend an air of detachment to proceedings. The negotiations would have been fascinating. I was waiting for the reference to the Duchess' good works - having given up on any chance that Oprah would make any headway in unravelling a story that got more convoluted and fantastic the more Sarah - or the other sheila - attempted various explanations. These involved taking the down payment of £40,000 for a friend in need, who was not, apparently, either Sarah or the other sheila.
Sure enough, there was a lovely shot of the Duchess hugging a little brown boy. "I have felt your sincerity ..." said Oprah. One of the Sarahs rolled out a little homily about a boy called Mohammed who "came up and he said, 'that guy over there playing football, he cut my leg off with a machete, but I forgive him'." She then asked, rhetorically, probably: "Then what is Mohammed teaching me?" I thought for a moment she was about to do a Tiger and discover some hitherto hidden Muslim leanings, but, no, it was something about learning from mistakes, Oprah provided.
There was an epiphany: Oprah's. "I just had an epiphany!" she announced, looking as though God, or Mohammed, had that moment spoken directly into her ear piece. This was that one of the Sarahs, at the time of the sting was, "a spiritually, morally bankrupt person". The Sarahs chorused: "That's genius!" They both thanked Oprah, there were a few tears and then, it would be good to think, the three of them went off to have dinner, an £80 bottle of plonk and more psychobabble chat.
It might be more fun to have dinner with Gordon Ramsay, who is coming to town to have dinner with some people, or to sell his Brand. The Brand - which is being a worldwide celebrity chef who swears a lot - is on telly here in two shows. One is the F Word (Saturdays, TV One, 7.30pm) which is about saying the F word a lot, and about finding the top local restaurant in Britain. So that involves a cook-off, and also Janet Street Porter raising an entire mixed grill, and involves tips on how to pick a top cow and her swearing at a top cow for kicking her.
There are some cooking lessons from which you could not cook the featured dish: buy the Brand's cookbook instead. There is a guest celebrity. This week it was Katie Price, aka Jordan. Gordon and Katie made chicken kiev which uses, snigger, chicken breasts. Gordon: "Your breasts are bigger than mine."
There is also Hell's Kitchen (Tuesdays, TV2, 7.30pm) in which the teams had to make sausages. Gordon: "How thick do you like your sausage?"
I hope the Queen had a nice birthday weekend. Watching her celebrity subjects making prats of themselves on the telly would have been as good a present as any.