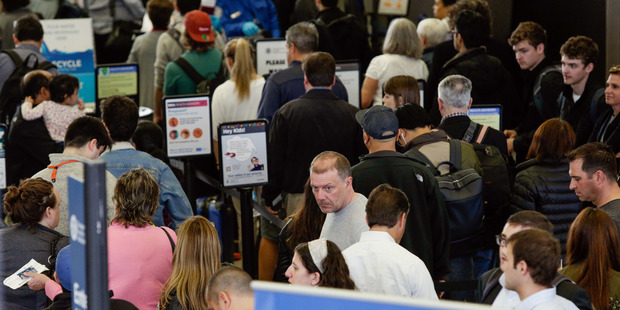 As security lines spiral out of control in the US, one airport has found a novel way to lighten the mood - send in the clowns!
At San Diego International Airport, circus performers have been brought in to entertain frustrated travellers, some of whom have missed flights due to security delays from the Transportation Security Administration (TSA).
WATCH: Airports are offering clowns, mini therapy horses, snacks and more to calm anger over long TSA lines. https://t.co/dDiIdc2oKy

— Good Morning America (@GMA) May 17, 2016
The Fern Street Circus were invited to the terminal after travellers affected by long lines and resulting delays began complaining under the hashtag #iHateTheWait.
San Diego is not the only airport to make attempts to entertain its customers - over at Cincinnati/Northern Kentucky International Airport, miniature horses have been brought in to cheer up the hordes of tired travellers.
The special "therapy unicorns" with colourful manes come from the nearby Seven Oaks Miniature Therapy Horses programme in Ohio and they're available for cuddles.
Excited to have our therapy ponies back! Just in time for derby wkend ?? #KentuckyDerby #KentuckyOaks @KentuckyDerby pic.twitter.com/FTh19eYhgb

— CVG Airport (@CVGairport) May 6, 2016
"Animals help reduce stress and anxiety levels and put smiles on people's faces," airport spokeswoman Mindy Kershner told NBC news. "Unlike service animals, who are working and should not be touched, therapy animals can be patted and hugged."
Long TSA lines have become an increasing problem around the US, as the busy summer travel season begins. Chicago's O'Hare airport has recommended that passengers arrive three hours prior to their flights.
This picture gives you an idea of what passengers in security lines at O'Hare are facing.#iHateTheWait pic.twitter.com/BUNf4pxPvp

— Suzanne Le Mignot (@SuzanneLeMignot) May 16, 2016
My bed for the night, thanks to 2+ hours in line for security & not able to get on 3 flights. @AskTSA #iHateTheWait pic.twitter.com/X796SHM4aQ

— Ariel Sara (@TheArielSara) May 16, 2016
American Airlines claimed 6800 of its passengers missed flights in one week due to TSA delays.
"The lines at TSA checkpoints nationwide have become unacceptable," airline spokesman Ross Feinstein told the Telegraph.
The TSA said the delays are due to reduced staffing from budget cuts, an increase in air travel and efforts to fix problems with screening.
While it has pledged to add 800 new security staff by June, those travelling around the US need to be prepared for some long waits - and hopefully, a couple of clowns.
- nzherald