Being voted the best beach in New Zealand has its pitfalls, discovers Danielle Wright.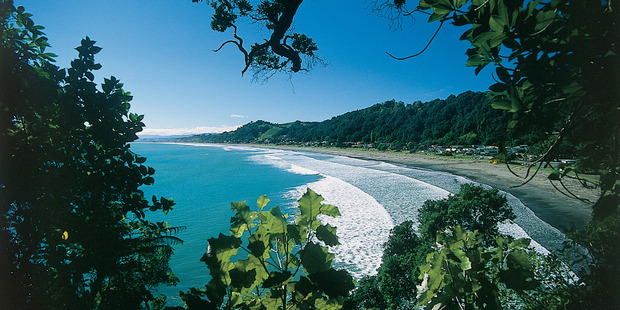 Marketing yourself as the "best beach in New Zealand", even if it is just based on the word of an online poll commissioned by the Green Party, is always going to be difficult to live up to. Add to that "the sunshine capital of New Zealand" and it had better be sunny and breathtaking.
On the day we arrive in Ohope, it's neither. We brave the weather and head to the beach to see what all the fuss is about. We find holidaymakers shivering in fleeces on deck chairs, sand whipping their faces as they doggedly thumb through paperbacks. Couples fish from the edge of the crumbling sand dunes as we try not to trip over their long lines.
Across the sea is Whale Island with its perfectly humped back and farther out is the active volcano of White Island, a constant steamy cloud hovering above it. We walk along the thin strip of sand until we get to a section of beach scattered in thousands of pieces of driftwood: at last, something interesting about this "special" beach.
It's like a driftwood wasteland with a gang of black oystercatchers lining up against one side and white seagulls on another: two tribes at peace.
There are giant driftwood teepees for the kids to run in and out of, plus an inlet of water for them to race driftwood along, or build a dam.
Nearby is a play park with a skate bowl filled with rainwater and an old wooden lighthouse to climb upon, a flying fox attached at the top. The local kids are racing along heartily and we join them in games of pirates on the large wooden ship set up next to the lighthouse.
The rain sets in and we head back to the Ohope Beach Top 10 Holiday Park to find our four-room Coleman tent all set up. All we need to do is flop on the comfortable camp beds and watch Spider-Man, while heating up popcorn in the microwave. It doesn't seem like camping at all.
The relaxing doesn't last long though - not when there's a giant air pillow outside the tent, as well as two large trampolines, a tennis court and a swimming pool with two colourful, twisty slides to rush down in the rain. Not to mention a mini-golf course just past the camp shop selling bags of 50c lollies and sandfly repellent.
"This is so much fun," call the kids, as they're filling their T-shirts with sand and dropping it on the air pillow to "slip and slide" down. They meet a new friend, a red-haired girl about five years older who takes them under her wing as we watch from the comfort of our "glamping" tent.
It's the first time the holiday park has offered the glamping experience and it's been so popular they ran through to Easter (going back up at Labour Weekend, so book now). It certainly caused a bit of a stir with the regulars.
"You the glampers?" asks one woman, accusingly, as she passes us in the TV room. "We had a walk through your tent this morning, had to have a nosy ..."
Any notion of a private camping holiday is erased as people peer in, wandering past with barbecue packs. As the sun sets, the air pillow becomes the focal point for all the tweens roaming around on bikes. "That guy in the stripes likes that girl in the black," says one kid.
"Meet you at the kitchen block. 9pm. End of," replies another.
Sure enough, as darkness sets in, a group of kids meet outside our tent for games of spotlight with their torches (until 11pm), which makes it almost impossible to get our younger children to bed. As I march my son back to the tent from the excitement outside, he says grumpily: "Life isn't about going to sleep, you know."
Luckily, we were there after the peak summer holidays so the kids club had shut down. I wouldn't like my chances of getting my kids to sleep with about 500 people watching movies under the stars outside the tent every third night. Another camp visitor tells me it's shoulder to shoulder on the air pillow and you need a wristband on New Year's Eve.
By all accounts, the holiday park becomes a small city, with talent quests, quiz nights, lawn bowls' competitions, a wearable arts event where people find everything from trash onsite, and beach rugby matches. If I were a kid, this sure is the place I would want to come for a holiday.
After a restless night's sleep, we wake to the hum of little feet running on the deflated air pillow outside our tent, dozens of lost jandals strewn across the lawn.
Chatting to the other holidaymakers over breakfast, I learn that this is a place they cherish each year, on a beach that means a great deal to them. For me, I'm not sure Ohope would make my top beaches of all time list, but we'd give the campground a 10 out of 10: a classic Kiwi holiday spot, any time of year.
Gone to the beach
• Ohope Beach Top 10 Holiday Park, Harbour Rd, Ohope. Shoulder season glamping is $90 a night for two, extras $20pp. Tents will be back up for November. In the meantime, there are kitchen cabins through to absolute beach-front five-star apartments, with some awesome winter deals.
• Cheddar Valley Pottery is a few minutes out of town and you can shop while watching the resident potter glaze, 1034 Wainui Rd, Wainui.
• There are many pretty walks in the area - from the scenic reserve with kiwi spotting, to the Cheddar Valley walk (2km one-way) beside the salt marsh.
• Ohope allows beach bonfires - if you get a written fire permit and stick to the allocated locations. For a permit, ph (07) 306 0500. Unfortunately, conditions were too windy when we visited.
Get directions to Ohope from Auckland:

View directions from Auckland to Ohope in a larger map
Danielle Wright stayed courtesy of Ohope Beach Top 10 Holiday Park.