Dionne Christian joins tourists on the Breeze for a trip back into Auckland's coastal trading history.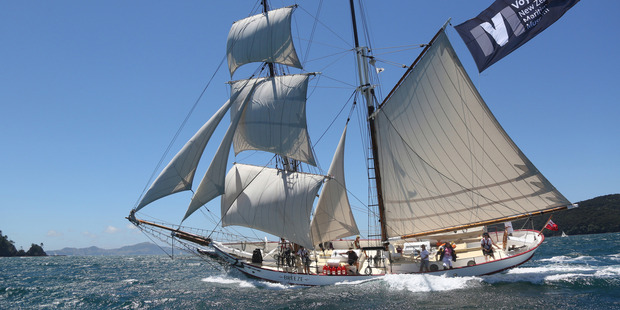 One Sunday in Auckland, a little boy - armed with an imitation cutlass and a head full of dreams about being a pirate - set sail on a launch and anchored at Takutairaroa Bay just off Motuihe Island in the Hauraki Gulf.
His eyes grew wide with surprise, he gave a pirate roar and shook his cutlass as a tall ship looking more like a pirate ship than any other he'd seen on the water that day anchored in the bay. All on board the Breeze - for that is the tall ship's name - chuckled with delight as the boy greeted them with a mighty ooorrr!
Although no Jolly Roger flag was hoisted or nearby boats raided, the little boy must have thought his dreams of sailing with a ragtag crew of buccaneers were coming true. Sadly, he didn't join the crew - who were anything but ragtag - but perhaps one day he will get to sail the Hauraki Gulf on Breeze.
I had joined the Voyager Maritime Museum's Breeze Gulf Experience. One Sunday a month, Breeze will head out on a six-hour journey past inner Gulf islands and historic landmarks.
Those on board - there's a 12-passenger limit - can join the action by helping to hoist the sails or taking the helm or can sit back, relax and soak up the scenery.
A square-rigged brigantine, Breeze was built in 1985 and is an almost exact replica of the traditional wooden sailing ships used for New Zealand coastal and inter-Dominion trade in the 19th and early 20th centuries.
I was lucky enough to be among the first passengers on the inaugural Breeze Gulf Experience.
Before we climbed aboard, we found out more about the role ships like Breeze played in the country's economic and social development at the Voyager's Early Coastal Trading gallery. Skipper and guide Stuart Birnie gave us a safety briefing before Breeze made its way out of Viaduct Harbour.
Breeze's majestic mast, with its spaghetti of rope-rigging and the snapping and billowing sails, felt just like those ships in pirate movies. Luckily, we had an able crew who could make sense of the web of ropes, quickly and efficiently hoisting and trimming sails to match Auckland's changeable winds. A person has to have a lot of strength for this traditional type of sailing, and most of the sailors are keen volunteers.
We had folders of historic photos so we could compare cityscapes of yesteryear and today, as Stuart pointed out historical landmarks and shared some of the fascinating history of Auckland.
Best of all was getting a completely different perspective of the city and its islands from the harbour.
It was smooth sailing all the way to Motuihe Island's Takutairaroa Bay, where we anchored for a delicious lunch. With the sun now high in the sky, there was the chance to swim or to simply relax and people-watch the boaties around us. Like most of the other passengers, I took the helm for a short spell. The wheel is stiff and heavy but it was thrilling to turn it and feel the ship respond.
The journey back was more eventful. If you're going to spend six hours in open water sailing on a replica of a traditional sailing ship, it adds enormously to the experience to encounter more lively weather and sea conditions. We were sailing against the wind, and against the tide.
Breeze dipped into the waves and rose again, showering all aboard with ocean spray. Luckily, the water was warm and we were provided with wet weather gear.
The crew was in total control. Some had spent time as children doing a bit of sailing, but all have learned traditional sailing techniques at Voyager, clocking fortnightly training sessions and at least 100 hours on the vessels to become proficient.
There's no grinding with handles. Sails are set by pulling and lowering rope lines. That's a lot of hauling and clambering up masts, so you have to be fit and have a head for heights. Sails are lowered when the wind is strongest; raised when it is weak and the boat needs an extra push, and Breeze has 10 sails.
Back on shore, an English tourist on his fourth visit to New Zealand described the Breeze Gulf Experience as one of the most enjoyable and best value-for-money attractions he's encountered here, and I'd have to agree. This was a true sailing experience.
NEED TO KNOW
The Breeze can be seen anchored at the Maritime Museum or plying the Gulf waters on regular short sailings. The day-long Gulf Experience is suitable for adults and for children over 12. Wear clothes that can get wet, non-slip soled shoes and a waterproof jacket.
Next sailings: Sunday, March 23 and Sunday, April 20. Tickets $90 a person (or $80 for Voyager Crew Members), includes morning tea, lunch and afternoon tea. Bookings essential. Ph (09) 373 0800 or email: info@maritimemuseum.co.nz.