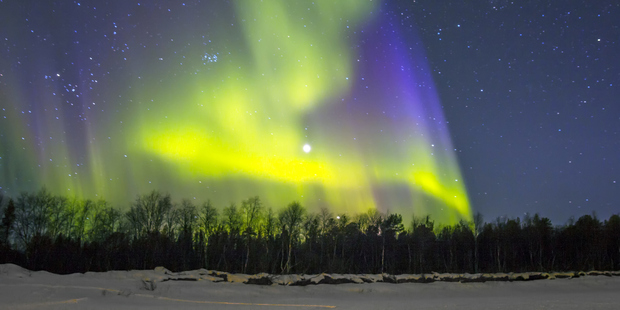 Scientists monitoring solar activity believe a mass ejection of particles from the sun during the last two days could mean people in some parts of Britain and North America are treated to a rare glimpse of the Northern Lights over the next few hours.
The Aurora Borealis, or the Northern Lights, is caused by the collision of energetic charged particles with atoms in the high altitude atmosphere.
Researchers say the sun fired a coronal mass ejection (CME) out into space two days ago, which is sending a "modestly" strong solar flare towards earth, and this in turn is expected to cause a geomagnetic storm.
This could allow people in the north of the UK to see the aurora tonight (Thursday, UK time) and possibly tomorrow (Friday) evening.
Professor Jim Wild, a space scientist at Lancaster University said there was a reasonable chance of seeing the aurora tonight - providing the weather is calm and skies are clear.
"It normally sits on the edge of the arctic circle in northern Norway. For it to come down to the UK you need a lot of solar activity" he explained.
"It should arrive at around midnight tonight (1pm today, NZST) - plus or minus a few hours.
"But if the geomagnetic storm is weak, it could push the aurora further south."
Dr Steve Marple, a researcher at Lancaster University and a member of the Aurora Watch UK research team said the further north in Britain people are, the better chance they have of seeing the aurora.
He advised: "You want to find somewhere dark, away from street lights and somewhere with good views to the north such as up a hill, so that the northern horizon is lower."
People in North America, who have been suffering through a protracted cold snap over the past few weeks, may also be rewarded with glimpses of the shimmering lights over the next couple of days.
US space weather forecaster Joe Kunches said the best viewing would probably be on Thursday evening local time, weather permitting.
The University of Alaska's Geophysical Institute predicted much of Canada and the northern fringes of the US should see the Northern Lights.
The solar storm is already diverting airline flights around the poles and may disrupt GPS positioning devices today.
Do you live in the northern UK, northern USA or Canada? If you see the Northern Lights tonight, send us your photos.
- INDEPENDENT, additional reporting from AP