Finding true north in the Far North, Elisabeth Easther finds plenty there to spin her wheels.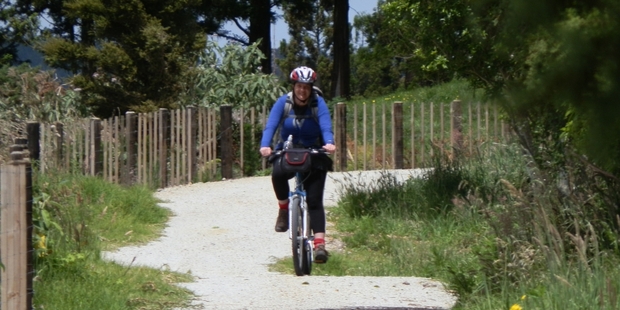 The Far North is a magical spot. With many pockets largely untouched by time, it's well worth the effort if you've a bit of time up your sleeve.
Having heard excellent things about the newest addition to Nga Haerenga - The National Cycleway, we set off to trial the trail for ourselves. Largely built on old railway lines, Pou Herenga Tai, the Twin Coast Trail, currently covers 20km connecting Kaikohe to Okaihau. Eventually the 84 kilometres of trail will run between the Hokianga Harbour and the Bay of Islands, near Opua, following an old rail corridor.
The good news is, you don't have to be Lance Armstrong to bike this trail, although you'll want an average level of fitness. Mostly it's an easy grade two, made largely of lovely undulating tracks and a couple of reasonable climbs but nothing too strenuous. Besides, who's going to moan with so much beautiful scenery to distract them including extinct volcanoes, ancient pa sites, even a waterfall? The lush bush is paradise for tui and fantails, indeed all birds, while old farm buildings and lean-tos lend the voyage an element of time travel.
We declared an 80 metre-long tunnel, constructed in 1915, its walls covered in kakapo-coloured moss, our particular highlight. Distant mountains were tinged in shades of blue, while Lake Omapere's serene surface is 14 square kilometres of picturesque.
Corridors of flax and toitoi encase the track much of the way, while farm animals had us whooping at every cow, horse and sheep. I stopped to pat a super-sized lady pig who was particularly partial to a rough old scratch behind her bristly ears while the kids befriended a pair of horses with handfuls of sweet grass.
And if your limbs are weary at the end of the ride, why not round off the day with a soak in nearby Ngawha's no frills hot pools?
The lovely people from Toptrail, Robyn and Ray, hire out excellent bikes in a range of sizes, including tagalongs for smaller travellers. They can collect visitors from Paihia or Kaikohe, and point people in the right direction for eating, drinking or what ever else you might need.
For all its charm, we noted how the area has suffered in recent times with recession so ideally, with the right community spirit, this cycle trail will increase visitor numbers and create new business opportunities for the surrounding communities as it grows.
But wait, there's more; 30 km to the east of Kaikohe is Kawakawa. Once a thriving coal mining town, today it's all about art. This little hamlet has always had personality and, when the toilets by eccentric Austrian artist Hundertwasser were installed at the end of 1999, the area became a firm favourite with tourists.
Then, in 2009, an oddity known as Amazespace sprang up on the hill behind the main street, a nod to the colourful ceramics and surreal building shapes of Hundertwasser. The man behind the Amazespace madness, former art dealer and ceramist, Matthew Nisbet, had been toying with the concept of a machine that "makes people feel better". Behind the innocuous ice cream parlour and coffee shop in front of Amazespace is a trip to wonderland. It's as if Antoni Gaudi and Salvador Dali's love child planted a garden out of concrete, mirrors, paint and mosaics. There are sharks and moa, chains and grass, bells and whistles - a treat for the senses. Just go there.
Time your visit right, you might also be able to buy some of the world's best mandarins on the roadside, or take a trip on the steam train Gabriel run by the Bay of Islands Vintage Railway. Although Gabriel is taking a breather until October while her boiler is attended to, the diesel trains are still running.
What a way to spend a weekend. Spectacular cycling, feasts for the eyeballs and cap it all off by relieving yourself in the world's most whacked-out public dunnies - what more could you ask from a break away?
NEED TO KNOW
Toptrail: Hire top quality bikes and gear from the lovely Robyn and Ray.
Amazespace: Currently open weekends (10am-4pm), and from Labour Day till the end of April open seven days a week (8am till late). 51 Gillies St, Kawakawa. Children $1, adults $2.
Bay of Islands Vintage Railway: Runs between Kawakawa and Opua on Fridays, Saturdays and Sundays, with extra days during school holidays. Adults $20, kids $5. Phone: (021) 171 2697.
Further information: See nzcycletrail.com.
Elisabeth Easther was a guest of Toptrail.