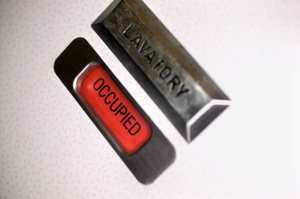 When the good news about your long-haul flight is that there just happens to be a gastroenterologist aboard, then you know the bad news is going to be pretty bad.
For 26 Aussie teenagers returning home from Catholic World Youth Day in Brazil, the long flight got longer when they were struck with vomiting and diarrhoea.
"Symptoms became evident during the flight," said Qantas in a statement. The airline pointed out that the bug had been contracted before boarding the plane.
The sick passengers were shifted to the rear of the plane, kept apart from other passengers and tended to by the gastroenterologist, another doctor and a nurse who happened to be on board.
Dr Vicky Sheppeard, of NSW Health, says it takes between six hours and four days for the symptoms to develop.
"Pilgrims coming from a gathering, that's kind of a classical situation where illnesses like gastro or flu can spread," she said.
"So it's not unexpected that might occur, it's just less usual that the onset of the symptoms is on a plane."