The lights have been switched on at Sydney's Vivid festival, a three-week melting pot of cultural, artistic and musical events. Chris Schulz is there.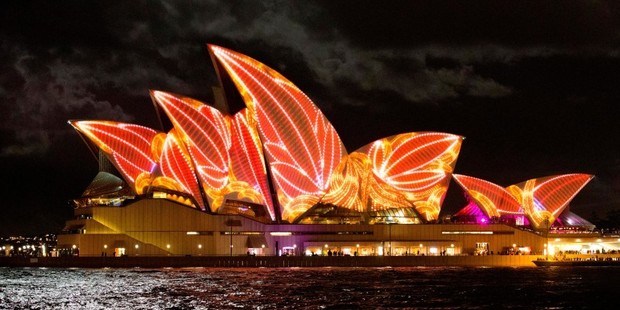 Lights and water aren't usually a good mix but the two combined in spectacular fashion on the opening night of Sydney's Vivid Festival.
Occasional bursts of torrential rain failed to subdue the mood as hundreds of people enjoyed the opening night of the Sydney waterfront event, as the lights were switched on for 40-odd interactive installations and 20 building displays.
A triumphant installation called Play on the Sydney Opera House by Australia's Spinifex Group was turned on around 6pm, with dazzling displays of power cords and pinball machines lighting up the iconic building.
At the same time, participants at Luna Park began dictating what was displayed on the Sydney Harbour Bridge using a touch pad in a work called Colour the Bridge.
And a P&O cruiseliner full of New Zealanders fresh from Auckland found themselves caught up in the action when it pulled into a dock and had its very own lighting display on the harbour side of the boat.
Now into its fifth year, Sydney Vivid is the biggest and best yet, with some of the most inventive installations so far, says the Festival Director of Vivid Light, Anthony Bastic.
"When I think about what the (artists) were doing (in Vivid's) first year, to what they're doing now, it's just incredible," Mr Bastic said.
"It's one of those magical events. I've never seen something taken up by the public so completely."
The night wasn't without its hiccups, as soul legend Bobby Womack cancelled his Opera House performance just several hours before he was due to take the stage, citing ill health. His second show tonight is scheduled to go ahead.
But for those lucky enough to have tickets, there was a revelatory performance by Kraftwerk in the same venue, as the German electro pioneers performed their first two albums in their entirety, followed by greatest hits sets.
The minimilist beats and thudding electronica of 1975's Radio-Activity showed just why the quartet are held in such high regards: Their sound can be traced into all aspects today's EDM artists, from the computer special effects of the Chemical Brothers, to the gothic bombast of Nine Inch Nails and the dubstep synths of Skrillex.
And with their 3D visual display showcasing the band's iconic imagery, it was the perfect way to open Vivid.
Finding your way home in torrential rain after that really didn't seem to matter at all.
Three other things to do in Sydney:
The Rocks Foodies Markets: Okay, so these are incredibly popular with some stalls pulling half-hour queues. I wasn't that desperate, but managed
to grab three pork and vegetable gyojas for $5 that were so good I went back for seconds. There are also pulled pork sandwiches, bacon-and-egg rolls, and yep, more cupcakes. Australians are obsessed with cupcakes.
Website: www.therocks.com.au
Walk down Oxford Street: It's like a giant K Rd that stretches on endlessly. There are plenty of shopping opportunities, and once you tire of that, stop for food at organic cafe Iku, that write off all that good food karma with a caramel hot chocolate from Max Brenner further up the road.
Website: www.maxbrenner.com.au
Pirate buskers: Like cupcake shops and joggers, pirate buskers seem to be everywhere in Sydney at the moment, so expect them to be all over Auckland in about six months. I laughed so hard at the pirate singing out-of-tune punk songs in front of Woolworths on George Street that I had to leave before he made me walk the plank.
Website: Luckily there is none. But if you come to Sydney, you will see pirate buskers sooner or later. Arrr.
* Chris Schulz travelled to Sydney courtesy of Destination NSW.

Getting There
Fly there with Air New Zealand Book now
Find out more at Australia.com