When exploring the myriad of castles that dot the Welsh countryside, it's easy to imagine the land that was fought over by princes, kings and lords, Peta McCartney discovers.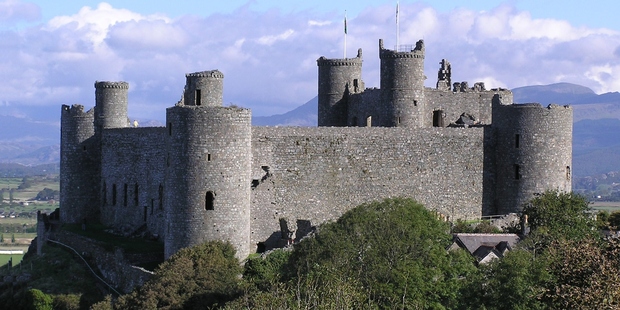 Harlech Castle in Harlech, Gwynedd, is one of hundreds of castles to be discovered in Wales. Photo / Thinkstock
I have a romantic theory that the male voice choirs of Wales received their harmonious and soulful voices from the very heart of the land they mined for hundreds of years.
Entering deep into the pits from an early age to retrieve the rich, dark coal that would fire the engines of England's Industrial Revolution, the men were exposed to the life and soul of the valleys in which they lived and it is this that we hear when they sing.
The mines have long since closed, but the men still sing and Wales remains a jewel, with a rich history, abundant natural beauty and a people who still carry the soul of the nation within, not only in their voices, as any self-respecting rugby fan at Cardiff's Millennium Stadium will agree, but in their culture, language and heritage.
Nowhere is this so apparent as in its hundreds of Welsh castles - 641 to be exact, more per kilometre than any other country in the world.
Visit one or a dozen - from Conwy Castle and Harlech in the north, to Cardiff, Caerphilly and the fairytale Castell Coch in the south - and it's easy to imagine the land that was fought over by princes, kings and lords.
Just outside the capital Cardiff lies Caerphilly Castle, one of the largest in the UK and Europe, built by the Anglo-Norman lord Gilbert de Clare between 1268 and 1271.
It wasn't until the late 18th century that repairs and restoration work began, with houses and other structures built against the castle walls demolished and interior chambers rebuilt so visitors could see what living conditions were like.
Today, this is particularly obvious in the great hall, which looks much as it would have in Gilbert's time - with shields and warming tapestries hanging from the walls - and which today is hired as a wedding or corporate venue.
Castell Coch, meanwhile, is pure fantasy; a real enchanted castle, yet just a baby at around 200 years old.
A visit to this little gem is worth every penny, with almost every room elaborately decorated with detailed frescoes and paintings, and carvings of the native fauna and flora. Every child imagines living in a castle such as this and even adults cannot help but be impressed.
Taking a drive through the Welsh countryside is another adventure. There are so many beautiful hamlets along the way, full of dark stone and slate roofed cottages, it becomes a question of which one is prettier or more quaint.
But if you're going to stop anywhere, take a couple of hours to stretch your legs at Beddgelert, sitting at the base of the Snowdonia National Park.
Like so much of Wales, there is the hint of a time and place just out of reach, as you listen to the chuckling streams that run through this little village, named for the legendary Gelert, faithful wolfhound of Prince Llewellyn.
Just five minutes' stroll through a peaceful field is Gelert's final resting place, slain by his master's own sword when the prince believed the dog had killed his infant son.
Gelert, however, had saved the baby from a wolf's attack and Prince Llewellyn, in his grief at what he'd done, vowed never to kill again.
Walking tracks abound here and many enthusiasts just park along the roadside to go rambling among the beauty of the hills, mountains and valleys of the national park.
There are plenty of views of Snowdon, the highest mountain in England and Wales, which was the training ground of Sir Edmund Hillary and his team before their attempt on Everest.
Train enthusiasts can also travel through this area on the steam train from Caernarfon, where you can visit the Inigo Jones Slate Works and purchase a souvenir for home.
Everywhere through Wales are signs posted in the national tongue. Welsh is a Celtic language most commonly related to Breton and dates from AD600, predating even French and German.
It is proudly still a living language and the further west and north you travel, the more likely you'll be to come across the sing-song tones of Welsh speakers - on the street and in the shops and tourist attractions you visit.
Beachgoers will instantly relax at the seaside towns of Saundersfoot and Tenby in southwest Wales, both popular holiday destinations, but still charming and full of character with interesting little alleys and shopping strips. Some of the beaches boast tiny caves for young adventurers to play pirate games.
Conwy, in north Wales, is a great place to base yourself to explore more of the area, including the smallest house in Britain, situated just outside the town's wall on the quay - just six feet wide by eight feet high (1.8 metre by 2.4m).
It's hard to imagine how anyone could have lived comfortably in this one up-one down tiny dwelling, with no kitchen, bathroom or laundry, but it is a must-see attraction, especially when you learn it used to be owned by a six-foot-three (1.9m) fisherman!
If you're not "castled-out'' by now, Conwy Castle is well worth a visit, with its 21 towers, ramparts, dark passages and dungeons.
Built by Edward I between 1283 and 1287 at a cost of £15,000 - about $NZ57 million today - the castle withstood many attacks and its walls remain largely intact with stunning views across the estuary and surrounding countryside.
Nearby Portmeirion, a charming man-made village set above the Dwyryd estuary, is full of brightly coloured buildings.
It was inspired by a visit to Portofino by founder Sir Clough Williams-Ellis, who didn't complete his dream project until 1975, aged in his 90s.
The architect acquired the remote promontory in 1925 with a vision to develop a site in harmony with its environment and this whimsical place leaves you feeling that you've visited a magical fairytale kingdom.
Once the playground resort of the rich and famous, you can now either visit or stay at the site and there's a range of accommodation available, from self-catering cottages, the castle or hotel, all set in beautifully tended gardens.
There is no need to rush when you visit Wales.
Despite having so much to do and see, the land of green valleys, rugby and singing casts a magic spell which seems to slow down time and allows you to relax, with no thought of tomorrow.
CHECKLIST
Getting there: Cardiff is easy to reach from all parts of the UK and beyond due to good road, rail, bus and air links. Located on the M4 corridor, Cardiff is easily accessible by car and is well-served by rail services too, with frequent services to and from London as well as regular links to the rest of the UK.
Staying there: The Castle Hotel in Conwy has rooms from NZ$128 for a premium double
Portmeirion offers a range of accommodation, including hotel and self catering cottages
St Brides Spa Hotel's bed and breakfast tariff for two adults ranges from $296-$633
Cardiff's Park Plaza provides accommodation from $176 for a superior room.
Playing there: Caerphilly Castle: Entry is $8 for adults, $23 for a family (2 adults and children under 16) and $7 for senior citizens, students and children under 16.
Conwy Castle: Entry is $9.50 for adults, $27.50 for a family (2 adults and up to 3 children under 16 years).
Castell Coch: Entry is $7.50 for adults, $22 fora family (2 adults and all children under 16) and $6.70 for senior citizens, students and children under 16.
Entry to the smallest house in Britain costs $2 for adults and $1 for children.
Further information: See visitbritain.com.
- AAP