Ladies are falling for a cruise ship's dapper host, says Denise Montgomery.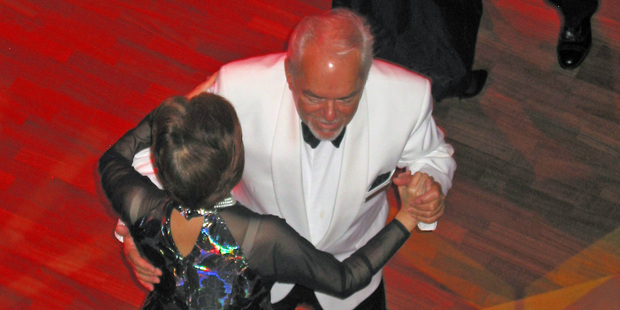 Cornelius Cousins loves to dance. On a typical night he will take the hand of a dozen single ladies for several hours, on a polished ballroom floor, dancing with his unknown partners like they are his princesses.
Cornelius is a gentleman dance host on the Queen Elizabeth, the 294m, 90,000-tonne regal liner which has a smaller sister, Victoria, and a massive one - the 150,000-tonne Queen Mary 2.
Each night during its world cruise, he twirls and caresses, leads and follows any one of 100 single ladies keen to dance like they did in days gone by, romantic times, times when gentlemen knew how to dance.
The peach-lipsticked women, in pearls, silk and gold, adorn tables in the Queens Room ballroom listening to a wonderful orchestra, waiting for the moment when Cornelius or one of the seven other dance hosts will take their hand.
"We might have 20 dances in an evening," says 73-year-old Cornelius.
"We dance to the level of our dance partner, you don't want embarrass anyone by dragging them around."
On this cruise, two dance hosts are German, one Canadian, Cornelius is American and the rest are British. Cornelius took the job after losing his business in Hurricane Katrina in 2005.
"I look back and think, 'thank God'. If I was still working, I'd have stayed physically fit, but to keep up with business, well, the only end would have been falling off a cliff.
"Being retired was brilliant... it opened up a whole world for me. What better world to have than to hang out on cruise ships?"
Just over 2000 passengers agree with him on board this ship. Of these, about 100 are single women, mostly widows. Many like to dance and that's Cornelius' job, to make them feel special on their magnificent voyage from Southampton.
He's in good nick, fit and trim and you might say, kind of smooth.
"The single ladies who come are aware of us... they kind of sit close so we don't have to climb into the bleacher seats and find them."
The women are aged from their 50s to 80s, but Cornelius is too polite to be more specific.
I've heard talk that some can be quite possessive of their favourite dance partners, and a little bit of, shall we say, un-ladylike behaviour can occur, but Cornelius plays it down.
"Potentially there is a bit of jealousy, if someone comes on and they fancy a particular dancer they could get a few problems... but I haven't seen anyone on this ship avoided. We try not to neglect anyone."
Sets last for 45 minutes from 9.30pm until midnight. There's almost no chatting he says, just dancing, except occasionally during a social foxtrot.
His job on the Queen Elizabeth is slightly different to when he works on other cruises where he is just called a gentleman host. That might mean other duties, dinner, a show, whatever the lady desires.
"This is more of a dancing theme, every ship has its own culture," he explains.
The cruise culture is notoriously addictive, even amongst workers. It's a way to work and see the world - dance hosts like Cornelius also help out on shore days, visiting places they may have never been.
"I have to admit when I first started, on another cruise, I signed on for 30 days on the Panama Canal and Caribbean. I'd go snorkelling and touring islands on the shore days and I would fly back home and within two weeks my feet were getting so twitchy."
He understands why widows love the cruise life - they may be lonely, there's so much to do on board or they might yearn for days gone by and on the Queen Elizabeth they get a taste of that.
"They grab the family fortune and start cruising saying 'I'm gonna spend it, not leave it to those little boogers!'," he laughs.
"They go around the globe, there goes the kids' inheritance...
"This is what they do for their entertainment and we happen to be part of the process."
Cornelius works as a dance host for 30 days, three or four times a year. All his food and accommodation is paid for, and drinks are cheap.
"I love to dance and this is all inconclusive, discounts for beer, gourmet food, lush life and this wonderful orchestra we have to dance to they are great."
I can think of worse jobs.