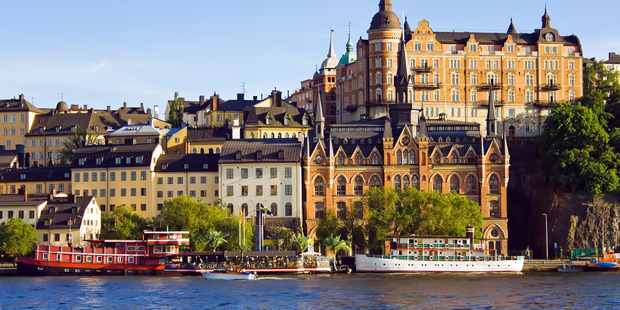 HELLSTENS MALMGARD
In a far corner of Södermalm, Stockholm's hipster-haven island, it's surprising to find a mansion laced with history tucked away amid modern utilitarian apartments. This 240-year-old listed building, built around a courtyard, was once a royal hunting lodge. Now, it is the latest hotel from the Swedish entrepreneur Per Hellsten.
When this unique slice of Swedish real estate came to market (it was previously a private home owned by a pharmacist) some 200 bidders wanted to get their hands on it. Hellsten, who has four other hotels in the city and other properties in Finland and Brazil, won the contract on the promise that he'd keep it as a public place.
As a globetrotting businessman, he found the cream walls, inoffensive artwork and empty spaces of hotels he often stayed at so impersonal that he vowed that in his own hotels, each room would have the same careful touches and individuality that he'd put into his own home. Malmgård's history only serves to enhance this sense of character.
Each room is decorated in vibrant colours and retains original features, such as tiled ceramic stoves - known locally as kakelugns - fireplaces, and stone floors. The structure of the building could not be changed, so expect to find the modern bathrooms, of variable size, tucked into archways and corners. And the conference rooms have more gravitas than usual, with decorative Gustavian furniture and antiques picked up on Hellsten's travels.
The service is excellent. I arrived late at night, and found a table by the entrance laden with tea, coffee and snacks for a midnight munch. Reception staff went out of their way to ensure I didn't miss any daytime adventures - even finding a ferry to an obscure island in the archipelago in the depths of winter.
Relaxed breakfasts, served under the arches in the brick vaulted basement, are worth lingering over. The croissants could be Parisian, and the fresh bread with cheese, cold meats and pickled herring were delicious; the tubes of fish roe were more of an acquired taste.
Location: Sitting in the north-west of Södermalm, the hotel is a short walk to other islands including Gamla Stan (Old Town) with its historic pastel-painted buildings and leafy, museum-filled Skeppsholmen.
Alternatively, Zinkensdamm metro station is a block away, on the same line as Gamla Stan and Central Station, where the Arlanda Express train arrives and departs for the airport.
Södermalm is rapidly becoming the Swedish capital's answer to east London. For Sweden this is almost edgy: artists, musicians and interior designers flock here for its bohemian laid-back feel.
Most streets are home to boutiques, vintage clothing shops, cafes and coffee houses. Stand-outs include Cafe Cinema on Sodermannagatan, with its strong coffee and cinema chairs, owned by film director Mani Maserrat Agah; and Cafe String, where you sink into sofas and armchairs that are all for sale, should you find yourself growing attached to your seat.
Stockholm may be one of the most expensive cities in the world, but the water-laced capital, with the brackish Baltic Sea to the east and Lake Malaren to the west, is picturesque enough to wander about without needing to reach into your pocket often.
That said, exploring some of the 24,000 islands and islets of the archipelago, scattered out towards the Baltic, is an unforgettable day trip, particularly in summer when the sunshine sparkles on the water and sea breezes cool the air.
On islands such as Gallno and Karklo, where the population barely reaches double figures, traditional island life has been maintained - it's hard to believe they are just a couple of hours from the city.
Comfort: Beige is banished. The 52 rooms are painted in bright purple, deep red or yellow. Eighteenth-century porcelain stoves and quirky antiques come as standard, including old typewriters, chests, pianos and other relics from Hellsten's travels.
The beds, four-poster in some rooms, are incredibly comfortable. Modern slate bathrooms are the only obvious design concession to the 21st century, with power showers and wet-room-style open spaces. All rooms have flat-screen televisions and free Wi-Fi.
There's no spa, gym or restaurant; instead this is a carefully thought out three-star hotel with excellent service and a sense of history.
The bill: Double rooms start at SEK1490 (NZ$267), including breakfast.
Address: Hotel Hellstens Malmgård, Brännkyrkagatan 110, Södermalm, Stockholm, Sweden (00 46 8 4650 5800).
- INDEPENDENT