Dana Johannsen visits a living piece of Northumberland history that vanquishes all traces of castle fatigue.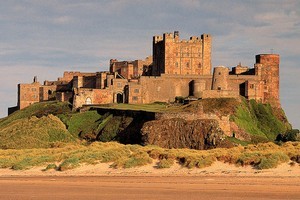 Bamburgh Castle stands proudly above a treacherous sea, and has protected both its inhabitants and hapless sailors for hundreds of years. Photo / Supplied
"Be careful of castle fatigue," were my friend's parting words before I departed for Britain.
This is apparently a phenomenon experienced by some travellers who, after seeing three or four castles, think they all look the same.
Well, if I was in any danger of succumbing to this malady, Bamburgh Castle in the very north of England, provided an instant cure.
It was the last castle I viewed in a whirlwind trip that included visits to Alnwick Castle (where parts of Harry Potter were filmed), Auckland Castle and Durham Cathedral and castle.
It was by far my favourite... and I certainly didn't think it looked like all the others.
Perched high on a rocky crag which spans about 4ha, it towers over the tiny village of Bamburgh beneath it on the bare, sandy coastline of Northumberland.
The massive walls of this medieval fortress are powerful, dramatic and visible for miles as you drive in to the township.
Visitors can park about halfway up the hill, leaving a bit of a climb up to the castle grounds.
Luckily, Jan, my friendly and supremely knowledgeable Blue Badge guide for the trip, had struck a deal with the castle curator and had permission to drive up in to the grounds.
So, like royalty, my chariot (in this case Jan's sturdy Renault) delivered me right up to the front door. Of course this down to earth princess was quite happy to open and close the gates on the way up, careful to avert the curious gazes from those huffing and puffing their way up the hill.
"She must live here," I heard one say. I contemplated giving them a royal wave, before the other one added, "Yes, probably one of the help." Hmph.
Unlike many other similar castles of this size and age, Bamburgh Castle is still privately owned, by the Armstrong family, who have lived in the magnificent building since 1894. This is the cool thing about this castle, it is living history, not some dusty old relic sitting high on a hill.
While visitors mill about the public areas, inside the living quarters people are going about their daily lives.
The castle and 14 of its rooms, including the King's Hall, the armoury, Cross Hall and a Victorian scullery, are open to the public. There are more than 2000 artefacts and items of interest to view, including coats of armour, art, porcelain collections, and well preserved pieces of furniture.
As you would expect the King's Hall and Cross Hall were beyond grand, with their stately proportions and beautifully ornate furniture drawing plenty of ooohhs and aaahhs from visitors.
But it was the comparatively cosy court room, which now serves as a portrait gallery of previous owners of the castle and also features private family photos, which was my favourite part of the tour.
If the castle itself isn't impressive enough, the backdrop in which it is set is awe-inspiring.
Standing guard from its rocky outcrop above miles of empty beach it's easy to see why this majestic building has such an impressive film and television pedigree.
Over the years the castle has starred in many a historical epic including the 1952 adaption of Ivanhoe starring Elizabeth Taylor, El Cid with Charlton Heston and Sophia Loren in 1961, the 1972 film Mary Queen of Scots with Glenda Jackson and more recently Elizabeth with Cate Blanchett in 1998.
A walk through the walled garden of the castle provides incredible views out to the Farne Islands and Lindisfarne, or Holy Island, which looked positively eerie on the overcast day I visited.
From this spot overlooking the North Sea it is also apparent why Bamburgh Castle's prominent position made it highly important in the past, as you can see for miles in all directions from the castle's battlements.
From repelling Viking attacks to fending off the aggressive Scots, the Bamburgh fortifications have a long history of defending England.
But in 1464, during the Wars of the Roses, Bamburgh captured the dubious honour of becoming the first castle to succumb to cannon fire, suffering heavy damage.
Thereafter it gradually fell into disrepair and ruin with only the Norman Keep remaining intact.
The castle was eventually bequeathed for charitable purposes and a major restoration programme was started in the mid 18th century that continued, in stages, into the early 19th century.
It was during this period that the castle's trustees decided to use its strategic position for good, creating what is believed to be the world's first coastguard system.
The waters around Bamburgh are perilous. The 20 Farne Islands and treacherous hidden offshore reefs have claimed the lives of many souls.
Determined to make Bamburgh's seas safe, Dr John Sharp, who became one of the trustees of the castle in 1758, created a pioneering coastguard system. Making good use of the castle's commanding position high above the coastline, Dr Sharp turned the castle into a coastguard station.
Guns were fired from the ramparts in foggy weather, a watch system and beach patrol were set up and massive iron chains were kept at the ready to haul floundering ships to safety.
In 1894 the trustees sold the castle to the 1st Lord Armstrong, an inventor and industrialist, who started his own programme of reconstruction and modernisation. Since then, the castle has remained the home of the Armstrongs. And apparently their help.
CHECKLIST
Getting there: Emirates flies from Auckland to Newcastle via Dubai. Fares range from $2099 return, plus taxes of $246.
Where to stay: Jesmond Dene House, Newcastle.
Further information: See bamburghcastle.com. For information about visiting the northeast of England see visitnortheastengland.com.
Dana Johannsen visited Northumberland courtesy of One North East England tourism agency and Emirates.