December 26, Nassau, Bahamas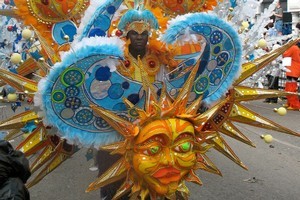 Junkanoo dates back to the days of slavery, with folklore saying it takes its name from 17th-century slave master John Canoe, who allowed his slaves a brief respite from toil so they could celebrate Christmas.
It's now the national festival of the Bahamas and features fierce competition between large groups of performers, who rehearse for months beforehand.
The parade action starts before dawn, with thousands of colourful dancers swirling through the streets to the infectious rhythm of goatskin drums, cowbells, whistles and brass horns.
An expo featuring local arts, crafts, and souvenirs is held concurrently. Junkanoo is also held at sunrise on January 1.