Cath Fraser samples a Queenstown-based visitor activity aimed at unleashing the artist within.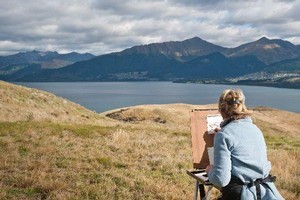 That's really neat, Miss." "Cool!" "Is that that rock over there? It looks just like it." Kids - they're such an easy audience.
I was on day two of an Art Adventures excursion in old gold mining territory between Queenstown and Cromwell, and had inadvertently set up my easel in the middle of the path. The place had been empty when we arrived; now two busloads of students and their teachers from an intermediate school were heading my way.
I felt the beginner's horror of exposure, but in Central Otago's spare, barren landscapes, there's nowhere to hide.
Two hours into my second-ever pastel drawing en plein air, I felt I had a good sky going, my background was coming together; but the colour of the scree and heather was hard, and the shadow kept shifting on the rock formation.
Then I had to step back to let the group pass, and my mortification turned to a slight, quiet pride with the kids' enthusiasm. Alice Blackley, our tutor and owner of Art Adventures, had been telling us to keep stepping back to look at our work, and was there now, grinning at me: "See? It's all there; it's coming along really well".
Art Adventures is her brainchild. An artist from Tauranga, where she has a studio in the Papamoa foothills, she has fallen in love with the spectacular high country landforms of the South Island and made Queenstown her second home.
Alice has been creating art, exhibiting in New Zealand and overseas and filling commissions for more than 20 years. She is also an inveterate traveller, and has undertaken a number of solo walks across high country and national park regions, with just her tent, rucksack and travelling watercolour kit for company. Her new venture is born from her love of the outdoors and art, and the desire to offer visitors an alternative experience of Central Otago.
Art Adventures draws on the concept of painting holidays which are popular in Europe as a way to really see and engage with a place, particularly for travellers looking for a fulfilling experience.
Alice or one of her tutors - all local professional artists - collect small groups of clients (ideally no more than five) from their hotel and, in a specially imported Volkswagen Transporter Kombi van, transport them to their choice of memorably scenic sites. Some of these, such as Jack's Point looking across the lake to the township and at the top of the gondola, are well known. Others are more remote with final selection decided by client preference and weather conditions.
Once in situ, the tutor sets up easels, distributes materials and outlines the creative process, demonstrating the use of view finders, composition, perspective and tone, according to the exercise being undertaken. On my excursion, the other client and I were both novices so we spent a little time just learning how to "see" the lightest, darkest and mid-range tones of our picture and translating these into charcoal, then black, grey and white pastel sketches. When we got stuck, an experienced eye and a deft hand were available to suggest solutions and improvements.
The time flashed by - but it wasn't all hard work - there's a strong focus on providing a quality introduction to the region, and this included gourmet catering. We felt well-pampered and indulged with a fresh Devonshire tea, an alfresco lunch at the Jack's Point restaurant with local, organic produce, and an evening platter with award-winning Central Otago wines while we reflected on our efforts for the day.
Our package was for two days and provided plenty of time to learn a lot and unleash the artist within. This was most evident when, on the evening of the second day, we returned to Alice's gallery and she hung our three finished pieces, pointing out the strengths of each and how far we'd progressed.
She then mounted each budding artist's best piece, which accompanied us home in a folder with the rest of our work, and we got to keep the sketch pad and pastels.
Back home, I'm pleased with my souvenir of a fabulous mini-break. My picture of a rock that sort of looks like a camel's head is propped on my desk, prompting plans for a return trip next year.
Further information: artadventures.co.nz
Cath Fraser paid her own way in Queenstown