Even though a fishing expedition didn't quite go to plan, Jim Eagles and his wife are easily consoled with a gourmet cheese hamper and a wine tour through the South Island's beautiful Gibbston Valley.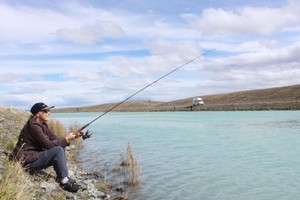 Ah. What better way to round off a day spent fishing in the crisp mountain air of the Mackenzie Country than a sumptuous salmon fillet served with fennel, grapefruit and apple slaw, red pepper coulis and cherry tomatoes, and accompanied by a delightful Chard Farm Closeburn chardonnay?
Wait, I'll answer that question myself. What would have been a whole lot better is for me to have caught the salmon, or failing that, a trout, myself.
I had everything organised. The chef at Peppers Bluewater Resort, at Lake Tekapo, had agreed in advance to cook the fish for me. My personal fishing guide was Ryan Clark, who's been fishing these waters since he was about five, and thinks he probably caught his first fish at age seven.
The Tekapo Canal, where we fished, was spectacularly lovely with its turquoise waters framed by autumn-gold trees and snow-capped peaks. And, best of all, it was full of fish.
True, most of the fish were in the cages of the Mt Cook Salmon Farm, sitting in the water running through the canal from Lake Tekapo to Lake Pukaki, but they do get free from time to time and Ryan said he'd caught a few over the years.
There were also lots of trout, because we saw them jumping, and one even porpoised across the surface of the canal in front of us. Even Ryan was surprised: "I've never seen a trout do that."
My wife, Chris, hooked a couple of trout - Ryan reckoned they were a good size - though she wasn't able to land them.
But I had no joy at all. I hooked the line of a woman fishing on the other side of the canal (twice). I caught several snags. I even dropped one cast on to one of the pontoons holding the salmon cages so Ryan had to break the line to get it free. I think perhaps I got two bites. But never a trout on the line.
Nevertheless, we had a great time and, luckily, there was always the salmon on the menu of the hotel's Rakinui Restaurant to fall back on.
It was a pleasant break in our journey from Christchurch to Queenstown, through the Mackenzie Country, exploring the food and wine of the South Island high country.
But whereas the first leg was overflowing with foodie opportunities, the first 250km of the second leg, from Lake Tekapo to Queenstown, was a bit of a gourmet desert.
I did spot a sign for the Clay Cliffs Winery in Omarama, said to be the country's highest vineyard, and got excited about the prospect of trying its high country pinots (noir, gris and blanc) and muscat, but unfortunately it was closed so we had to make do with a flat white at the Wrinkly Rams cafe.
Still it was a spectacular drive, alongside Lake Pukaki, Lake Ohau and several of the canals linking up the giant Waitake hydro project, past Aoraki-Mt Cook - obscured by clouds and rain - over the spectacular Lindis Pass, down the shores of Lake Dunstan and through the majestic Kawarau Gorge and on to Queenstown.
There are of course dozens of wineries around Lake Dunstan, but I had decided to focus on the Gibbston Valley area, so instead of stopping for lunch there or in historic Cromwell we kept driving ... which turned out to be a mistake.
We arrived at Nevis Bluff, at the end of the gorge, just as a works team was about to do some blasting to remove overhanging rock. The nice young woman doing public relations advised it would be at least an hour before the road was opened and offered us a handful of Fruit Bursts to sweeten the message.
So we took the sweets and retraced our steps a few kilometres to the Goldfields Mining Centre, on the edge of one of the steepest sections of the gorge, where you can pan for gold, take a jetboat ride, walk around the traces of a century of goldmining ... or enjoy a sandwich and a flat white.
When the traffic started flowing again we headed for the Gibbston Valley where a smorgasbord of wine and cheese was waiting.
Gibbston Valley Cheeses, in the heart of the valley, sells a range of excellent European-style cow, sheep and goat cheeses. But what they also do is provide picnic hampers so you can take a selection of cheeses - plus biscuits, bread, olives and sun-dried tomatoes - around a few of the local wineries.
I've done wine and cheese trails before, mainly in the Barossa and McLaren Vale wine areas in South Australia, and they're a wonderful relaxed way to explore an area and savour its tastes.
We collected our hamper and headed for the first stopping point, the Chard Farm Winery, which turned out to be at the end of a narrow, winding road round a massive stone bluff with the Kawarau River flowing far below. The sign at the beginning said "parachutes needed" and it wasn't joking.
At the winery a wine tasting group was in session but they gave us two glasses of their nice, light River Run pinot noir - no charge, so I bought a bottle of the very nice Closeburn chardonnay we'd had with the salmon the night before - spread our hamper on the table out front and tucked into a delicious brie-style Wakatipu white.
It was delicious. In fact we mmmmm-ed and aaaaah-ed so loudly that some of the wine tasting group and even the sculpture of a witch on a bike made of old vines, looked as though they wanted a taste.
Next up was Mt Rosa Wines, which operates out of a big old barn on one of the back roads, where they were so enthusiastic that we had to enjoy a full tasting session of their wines (again no charge, so I bought a bottle of the very interesting pinot blanc).
The cheese here was the company's signature offering, Balfour, a grainy, crumbly, nutty-flavoured pecorino-style sheep cheese, which Chris didn't altogether care for because of the sheepy taste, but I thought went wonderfully with the Mt Rosa pinot noir. Just over the road was Brennan Wines where we were able to buy a big glass of their pinot gris for just $7, sit at a picnic table amid the vines and enjoy the perfect match with the smooth, buttery Mt Scott havarti.
Last stop was Gibbston Valley Wines, one of the earliest in the valley, notable for the huge wine tunnel dug into the hills by the team that dug the tunnel for the Clyde Dam, and these days used to store the barrels of pinot noir.
Here for $10 we got a glass of an excellent dryish riesling, the perfect contrast to a Kawarau blue cheese, and sat polishing off the hamper while watching bins of grapes being brought in from the surrounding vines and put into the presses.
It's hard to think of a better way to get a real taste of all the things that make Central Otago such a great place to visit.
There was one other taste I associate with the high country that I still hadn't enjoyed but I was able to fill that gap at dinner that night at the excellent Botswana Butchery on the lakefront in Queenstown. This is, as the name implies, a carnivore's delight and so it was the ideal place to check out southern venison.
I regret to advise I made a bit of a pig of myself here with a succulent duck liver parfait, a lovely pan-seared fillet of venison - accompanied by a really interesting dish of courgette julienne, with bits of chilli sprinkled on the slices - and a trio of chocolate. Yum.
No doubt - as with the salmon I enjoyed at Lake Tekapo - the venison might have seemed better if I had hunted it down myself ... but not by much.
CHECKLIST
Getting there: Air New Zealand has direct flights from Auckland to Christchurch and Queenstown.
Getting around: Ace Rental Cars has offices around the country including at Christchurch and Queenstown Airports.
Where to stay: Peppers is a collection of hotels including the Bluewater Resort at Lake Tekapo and the Beacon in Queenstown.
What to do: Air Safaris offers flights across the Southern Alps.
Freda du Faur, named after the first woman to climb Mt Cook, is a bed and breakfast and guiding service in the Lake Tekapo area.
Gibbston Valley Cheese Company has information about its range of cheeses and picnic baskets on its website.
Gibbston Valley Winery is on the web.
Information about other wineries in the Queenstown area can be found here.